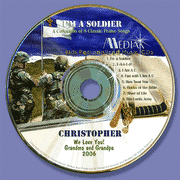 I Am A Soldier, Personalized CD
I am going to combine 4 Cd's into this review – "Mediak Kids Christian Praise Songs Vol 1-3" and "I'm a Soldier." Several of the songs overlap between these Cd's.
After listening to Jesus Loves You and Fun Time Bible Stories, I was personally disappointed in these three Cd's. Although there are some great songs on these CD's, some arrangements that they chose are not what I call kid friendly.
Let me explain. When I am looking for a kids CD, I want the pitch to be true, the rhythm to be simple, and the songs to not have a lot of embellishments. Sprinkled throughout these CD's are arrangements where the adult soloist takes liberties on pitch by sliding between the notes. This is a popular sound but it not what I like to hear in kid's Cd's. Here's why: The kids will make the song their own but I want their first exposure to be the simple, basic melody.
On both "Joyfully Alive" and "I'm a Soldier" is the Books of the Bible song that helps kids learn the order of the books of the Bible. Due to the quick tempo, the song would only be a guide and would not teach the order. A child would need to be taught the order slowly by an adult.
A couple of the song on the Cd's – "Hug another Neck" and "Father I Adore You" – are from the original Psalty records that came out in the 80's. Psalty continues to be some of my favorite all time recordings.
The Praise Song Cd's only contain six songs a piece while the "I'm a Soldier" Cd contains eight songs. If you like the songs, I would suggest getting the "I'm a Soldier" since there is so much overlap.
For the price that you are paying to have a CD personalized, I would suggest going with the Jesus Loves You or Fun Time Bible Stories Cd's instead for preschool aged kids. I would leave "I'm a Soldier" for elementary age.