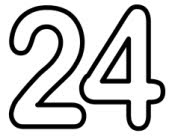 This week is a review week – do some of the activities that you weren't able to do these past few weeks. The review week also gives you time to focus on concepts that your child is struggling on. Enjoy playing games and drawing "My Family".
3 Year Curriculum Week 24
4 Year Curriculum Week 24
Don't forget about the Week 24 Review writing worksheet available in 3 forms.
Also start thinking about Valentine's. Bubs and Sweet Pea started writing their names on their Valentine's Day cards. This way, we can do a few at a time and no one gets tired!