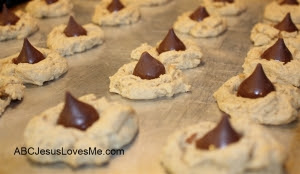 These cookies are definitely a favorite at our house.  Easy to make and fun to bake together. 
48 candy kisses (we like the almond kisses the best)
1/2 cup shortening
3/4 cup creamy or crunchy peanut butter
1/3 cup granulated sugar
1/3 cup packed light brown sugar
1 egg
2 tablespoons milk
1 teaspoon vanilla extract
1-1/2 cups all-purpose flour
1 teaspoon baking soda
1/2 teaspoon salt
1. Heat oven to 375°F.
2.  Have your child remove wrappers from chocolates.  (This is an excellent fine motor activity.)
3. Beat shortening and peanut butter. Add granulated sugar and brown sugar; beat until fluffy. Add egg, milk and vanilla; beat well. Stir together flour, baking soda and salt; gradually beat into peanut butter mixture.
4. Shape dough into 1-inch balls and place on an ungreased cookie sheet.
5. Bake 8 to 10 minutes or until lightly browned.
6.  Immediately press a chocolate into center of each cookie; cookie will crack around edges. (Kids love to do this but be careful because the cookie sheet is hot.)
7. Remove cookies to wire rack. Cool completely. About 4 dozen cookies.

*Peanut Allergy Alert