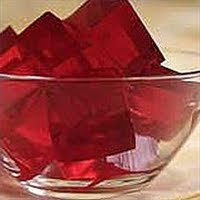 Growing up, a tradition in our family was having finger jello at picnics. It is fun to eat and easy to make. Once the finger jello is made, use cookie cutters to make fun shapes. This activity is used throughout the ABCJLM curriculum to learn letters, numbers, and shapes.
3 (3 oz) boxes of your favorite flavor of Jello
4 packages Knox Clear Gelatin (unflavored gelatin)
3 cups boiling water
1 t. fruit flavoring (lemon juice, etc.)
1 cup cold water

To dry jello, add boiling water and stir until dissolved. Soften unflavored gelatin in 1 cup cold water and stir in fruit flavoring. When softened, combine with jello mixture. Pour into two greased 9×13 pans to 1/4 to 1/2 inch thickness. Refrigerate and cut into finger size squares.