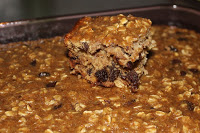 I had some over-riped bananas that I needed to use up. I am always looking for healthy muffin or breakfast bar recipes because the kids love them and they are so easy! Google came through and by combining a few recipes and adding my own ingredients, I came up with a winner. Please understand that these are not light-fluffy-sugary snacks. There is some substance to these. The good news is that they won't taste like cardboard and your kids will like them!
Momma C's Banana Oatmeal Breakfast Bars
4 over-riped bananas, mashed
4 eggs
1/4 cup oil
1/4 cup applesauce
1/4 cup milk
1 t. vanilla
1/2 t. soda
1/2 t. baking powder
1 t salt
1/2 t. nutmeg
1 t. cinnamon
1 1/2 cup brown sugar or honey
2 cups flour
3 cups old-fashioned oats
1 cup chocolate chips (optional)
1 cup raisins or craisins (optional)
Mix all ingredients and place in greased 9×13 pan. Bake 350 degrees for 25-30 minutes. May bake in muffin tins for shorter amount of time.
Added Note: Baking in a 9×13 made the bars very thick. I think I will try a jellyroll pan next time.
Let me know your thoughts!