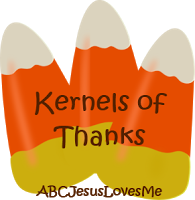 While the holidays are filled with anticipation and fun, there is so much more than food, football, and parades to each of them. In our blog series, Thanksgiving Traditions, I am sharing ideas of my own and from the ABCJLM family that will help you leave a legacy while keeping Jesus the focus of the holiday season. While many fun and great ideas will be shared, no family can do all of these ideas. So, pick a couple that will work in your situation and begin making traditions this year!
An idea from Nicole:
Each year before our Thanksgiving meal we read a story from Family Life Today called Thanksgiving: A Time to Remember by Barbara Rainey. It is a story of the Pilgrims' faithfulness and biblical thankfulness.
In detail the story explains the voyage on the Mayflower, building a community, and growing crops. We learned information about the Pilgrims that I did not realize. It gave me a whole new appreciation for what they did to escape religious persecution and why they were so thankful for God's care for them.
The book contains both large and small print words. Depending on the age of your children or the amount of time available, you can choose to read the large print for the whole story, or read everything and get more details.  Even the large print includes a lot of writing, so I would encourage this reading with elementary aged children and just reading a section at a time.  The small print reading may be more conducive starting at pre-teenagers. 
A CD accompanies the book. It contains mostly instrumental music of hymns and choruses.
After reading this book or Let's Be Thankful (with younger children – read more), each person is given six pieces of corn. Circling around the table each person says one item that he or she is thankful for and then places one of the kernels of corn in a mug that we pass around. This process continues until all six pieces of corn are gone. (Each person shares six items of thanksgiving but this number may need to be lowered depending on the age and number of participants.)
Thank you to Nicole for this idea that she shares from her childhood. Read in the coming weeks more ideas that she shares in our "Christmas Traditions" blog series.
Glean more Thanksgiving ideas in our blog series – Thanksgiving Traditions throughout this month – and on the ABCJLM website page – Thanksgiving Ideas. Be sure to "Follow" our blog (in the right-hand column) so you don't miss any great ideas!

Besides corn, you could use candy corn.  What else could you use?


Thank you to Crossway Publishing for allowing me to review this book.