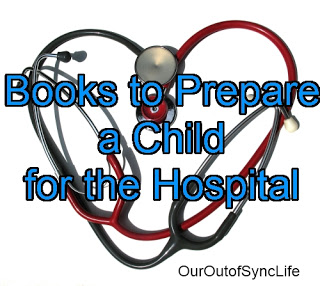 With Little Man preparing to go to the hospital to have his tonsils and adenoids removed I wanted to share some of the books that we have read or ones that have been recommended to us. Use these books with your own child or grandchild or give them as gift to a child in your life who is going to have surgery.
(I have made notes beside the books that we have read.)

Franklin Goes To The Hospital

We love Franklin books and I highly recommend this one! Franklin hurt his shell and has surgery to put a pin in it.

Curious George Goes to the Hospital

As a whole, I am not a fan of Curious George. I believe that children need to know who he is but we don't read a lot of the books. But as the yellow books go, this one does a good job explaining a hospital in simple and easy terms while adding in "Curious George" humor. George has surgery after swallowing a puzzle piece. Then in his mischief, he makes the other kids in the hospital smile.

This Is a Hospital, Not a Zoo!
Barney Is Best

Not to be confused with Barney the purple dinosaur, in this book a little boy is going to the hospital. His family is trying to help him decide which stuffed animal to take with him. In the end, he realizes Barney his stuffed elephant is best.

Going to the Hospital (Usborne First Experiences)

While I have not read this book, I have read several others in this series. Very good!

Going to the Hospital
by Fred Rogers (Mr. Roger's Neighborhood)
Although not a book that I was able to get a copy of, anything by Fred Rogers would be excellent.

Let's Talk about Going to the Hospital

A Visit to the Sesame Street Hospital
Tonsillectomy
Let's Talk About When You Have to Have Your Tonsils Out

Emma Kate
– A little girl and her best friend share many adventures – even having their tonsils out. (This book is included on the 4 Year Book of the Week list.)

Good-Bye Tonsils!
This book was in our library's parenting section. It is longer and very detailed. At times I wondered if it was telling my four-year-old too much but it brought up some good discussion. I am glad that we read it.

The "O, MY" in Tonsillectomy & Adenoidectomy: How to Prepare your Child for Surgery
Since I was particularly looking for books on tonsillectomy, here is a parent's book that came up several times.
Ear Tubes

Koko Bear's Big Earache: Preparing Your Child for Ear Tube Surgery
by Vicki Lansky

Tubes in My Ears: My Trip to the Hospital
Doctor Visits

My Doctor, My Friend

This book by P K Hallinan isn't for the hospital but is a fabulous book about doctors.


What books can you add to the list?