One thing that really stresses out mommas is the thought of doing more than one of the ABCJLM Curriculum at once. And this has happened several times in our home. On Monday, I will begin using the 2 Year Curriculum with Peanut (2 1/2) and the 5 Year Curriculum with Little Man (5). While the curricula are completely separate, there are items that can be combined to lessen prep and sit down time.
Let's look at what I decided to cover with Peanut in yesterday's post.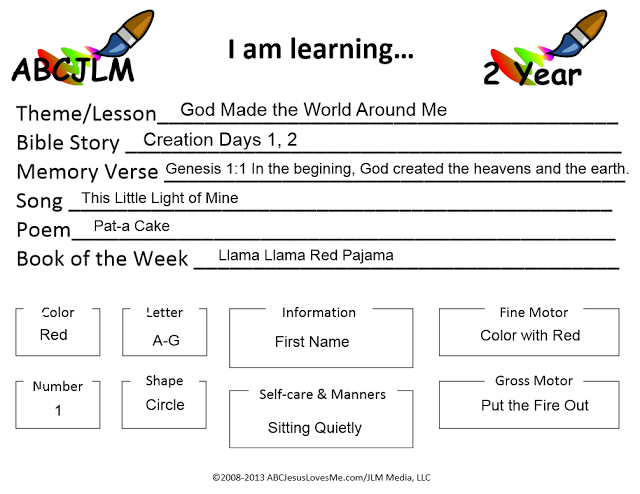 And if it was just him doing the curriculum, this is what I would cover. But because I will also be teaching Little Man, I need to combine some objectives.
Let's look at the "I am Learning…" Objective Poster for the 5 Year Curriculum, Week 1.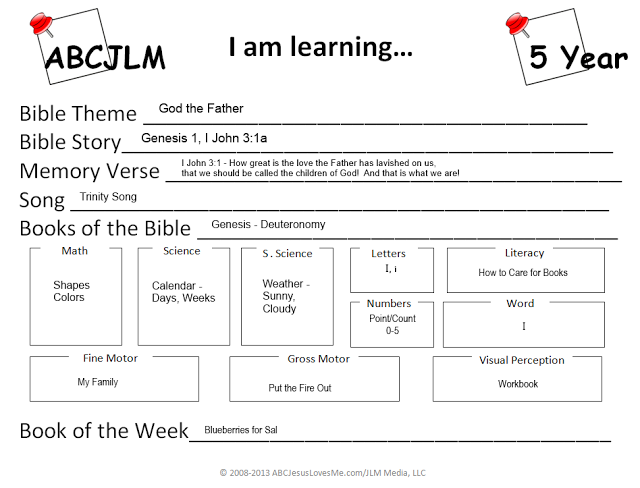 Putting those two together, let's see what activities we can combine while still covering the age appropriate objectives.
Combined Learning
After prayer, we will cover:
1) Calendar activity – 5 Year Science Objective
2) Bible time – I have decided to use the Bible curriculum
from the 5 Year Curriculum to guide this time instead of doing two (the 2
Year and 5 Year). While Little Man will do the activities suggested, I
will simplify the activities for Peanut.
3) Memory Verse – The 5 Year Memory Verse will be too long for Peanut but I will shorten it.
4) Song – The 5 Year Song will match with the Bible story.
5) Books of the Bible – The focus will mainly be on Little Man reviewing these (he already knows all 66 books but I don't want him to lose them) but Peanut will repeat them with us.
6) Science, Social Science
Throughout the day we will combine these activities
1) Fine Motor – Depending on the week, we may separate these.
2) Gross Motor
3) Book of the Week – We will read both books throughout the week before nap time.
Separate Learning
Peanut and I will work on these objectives while Little Man is working on guided practice activities or playing a computer game (Earobics, Charlie Church Mouse, Starfall.com).
1) Poem
2) Letters
3) Numbers
4) Color
5) Shape
6) Self-care, manners
While Peanut is playing with blocks, modeling clay, or coloring, Little Man and I will have our time working on the following objectives.
1) Math
2) Letters
3) Numbers
4) Literacy
5) Word
6) Reading
Since Peanut is 2-years-old and his attention span is very low, the learning activities including him will be short and spread out. The activities with Little Man will be more detailed and focused.
While this looks like an extensive list, not every objective or activity will be covered everyday. And as I stated yesterday, several of these objectives will be covered in the car, before nap time, before bed time, and as teachable moments arise.
And… this post concludes our "Preparing to Impress" series. I pray that it has helped you prepare your heart, home, and curriculum to help you impress upon your children the commandments of God. So grab your Bible, lesson plans, a highlighter to decide while activities you want to cover, and a pencil to make notes. I am excited to hear how your first week goes!


Share your ideas of how you hold school time with little siblings.