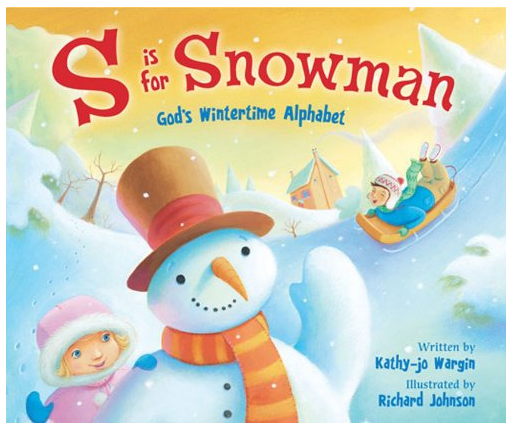 All in all, I dislike alphabet books. Loath them, actually.
I cringe when my kids pick them off the library shelves. My first instinct is one of I-really-don't-want-to-read-this-book-grrrrr! Sometimes, I suggest a different book in exchange. Other times I give a flat out – No!
When the God's Alphabet books were suggested on the ABC Jesus Loves Me Facebook Group, I was extremely skeptical.
What a pleasant surprise S Is for Snowman: God's Wintertime Alphabet was!
This book focuses on two levels of the alphabet. First is the individual letters – S. The entire book focuses on winter (snowmen being one activity). The second level is how each page of the book uses a different letter from the alphabet (from a – z) to tell about Winter. While not a story with a plot, the book flows very well explaining God's creations of wintertime. Each page begins with (letter) is for ____ and then goes on to explain the word using rhyming lines. The letter is capitalized any time a word begins with that sound.
H is for Hot Chocolate
Would you like Hot Chocolate?
It's tasty and sweet.
Let's add the marshmallows –
Oh! What a treat.
The illustrations are soft and detailed show many different levels of winter. The people show emotion in their activities.
Honestly, the book was delightful. I hope to read many more in Kathy-jo Wargin's series! These books would be wonderful for the Letter of the Week practice. I have added it to the Letter S Ideas.
So grab mugs of hot cocoa, turn on the fire, and read S Is for Snowman: God's Wintertime Alphabet. (Click on link to order from Amazon.)


Thank you to Zonderkidz for allowing me to review this fun book!