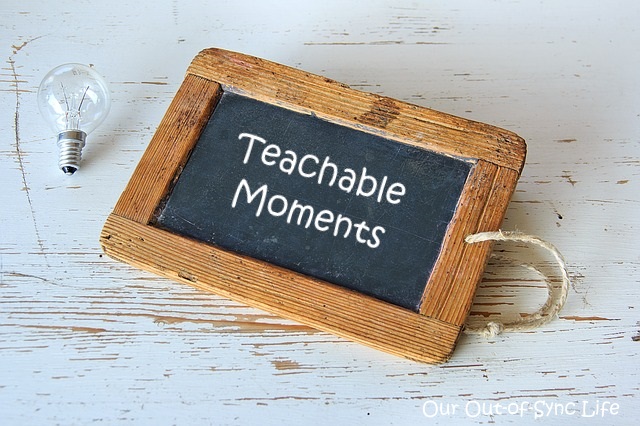 Now that you know what teachable moments are, and when, where and why they should occur, I pray that you have begun seeing them pop up in your daily activities and conversations. (Begin with the first post of this series.)
In today's post, I am going to share how to utilize the teachable moments when they come up.
In my mind, the difference between having a conversation and having a teachable moment is in the depth and the focus. Am I giving short, direct answers or am I taking the time to get to the heart of the matter?
As a Christian, I should continually be "impressing" God upon my children and turning their eyes toward their Savior. If I am doing this, I am turning a situation into a teachable moment.
There are three avenues to impress God upon our children during a teachable moment:
Bible verses
Bible stories and characters in the Bible
Characteristics of God
I'd like to say that I am a walking "Bible," able to quote verse after verse. But, I can't. Any time a verse comes to my mind, I have no one to credit but the Holy Spirit Himself! That is why I have found the book Parenting with Scripture: A Topical Guide for Teachable Moments
by Kara Durbin to be so helpful.
In alphabetic order, the book contains 100 specific behaviors from anger to hope, giving to sharing. Each behavior contains a definition, list of Bible verses, discussion questions, "Take Action" which help you apply the principle to your life, and parenting tips. Click to view an example page from the book.
When a situation comes up, I can quickly grab this book to find the scripture needed.
Here are two examples:
Our precious Sweet Pea is being a little toot right now. She has had a major attack of the lazy's and wants everything to come easily to her. This has led to disrespect and attitude. Yesterday she and I sat down for a come-to-Jesus meeting to deal with the issue of her heart.
I pulled out the book Parenting with Scripture: A Topical Guide for Teachable Moments
and turned to the character on "apathy." Then we read what God's Word said concerning her attitude and disrespect. She was surprised to hear there were Bible verses that talked about apathy and laziness.
Instead of simply disciplining over the attitude and respect issue, the Holy Spirit guided me to use it as a teachable moment to show her God's desire for her heart.
Another one.
The memory verse that we have been working on in the van is I Peter 1:13. "So think clearly and exercise self-control." One afternoon Little Man was struggling to make good choices. Immediately the Holy Spirit brought the verse to mind. Because we had already discussed the meaning, Little Man and I were able to apply it to his situation. We discussed how he was not thinking clearly or exercising self-control and what it would look like if he did.
Two situation where the Holy Spirit helped me turn a mundane situation into a teachable moment and impress God on our children. To that I say, "Praise God!"
Tomorrow, I will provide examples of the other avenues.
(I reviewed an earlier edition of this book but it appears the books has only gotten better with the 2nd edition!)


Thank you to Moody Publishing for allowing me to review and share this book.