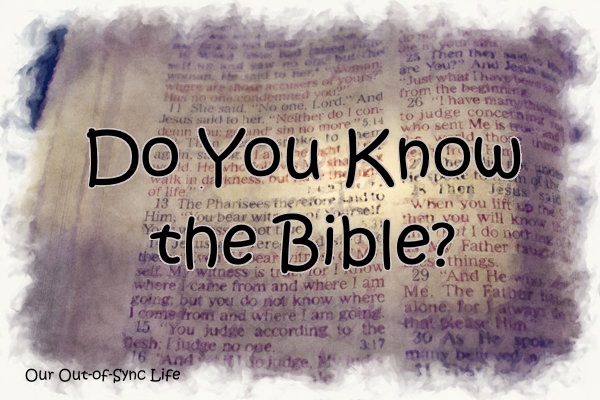 Last week I finished the life-changing book Having a Mary Heart in a Martha World: Finding Intimacy With God in the Busyness of Life
. A-maz-ing.


The first of June, I will begin the highly suggested Discipleship Essentials: A Guide to Building Your Life in Christ
with my accountability group. And if you are looking for a devotional, I have invited you to join me for discussion on the SISTERS at ABCJLM group page.



So what do I do during my Quiet Time for the next two weeks?
Looking for a pen, I pulled open my night stand and four little pocket-sized books grabbed my attention. I claimed over a year ago that I wanted to dive deeper into their wisdom and the one on top, Epic: The Storyline of the Bible,

seemed perfect for this two week lull. If you aren't familiar with the Bible Savvy

series by James L. Nicodem, think What's in the Bible? for adults. (Read more here.)
So yesterday, I opened Epic and began gleaning. Right out of the chute, I learned these amazing facts about the Bible.
Compilation of 66 books in one.
Written over a period of 1,500 years
Penned by 40 different authors
Authors who lived in 10 different countries
Authors who worked more than 20 different occupations (including king, shepherd, general, tax collectors, fisherman, and doctor)
Written in 3 different languages (Greek, Hebrew, and Aramaic)
2,930 different characters named
Yet…there is 1 drama.

One "single, overarching, comprehensive storyline. A storyline that amazingly ties the whole book together, from Genesis to Revelation."
And what is that storyline?
Redemption. The entire Bible is one big rescue story. People sinned and we need a Savior.
This gives me chills! All of those books, chapter, verses, characters… yet one story.
Friends, God isn't some far-off eternal being. He isn't a dictator and God's not dead. No!
He is a God who desperately wants us to crawl into His lap and call Him Daddy.
If you haven't gotten to know this God who desires to redeem you, the resources shared above are fabulous places to start.
This post contains affiliate links.