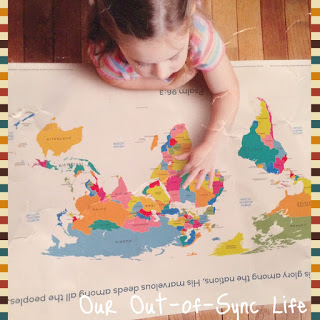 I am super excited to give away – to one ABCJLM family member – the Weave.com Prayer Map pictured above!
Out of 220 entries, the randomly chosen winner is:
Entry #215 – Jona L (email lilstub…@)
Jona, please contact me within 48 hours using the winning email address and be sure to include your mailing address. Thank you to everyone who entered and thank you to Weave Family for providing this giveaway.
And if you didn't win this fabulous resource, you can purchase this map here – http://cmmpress.org/fabric-world-map.html
As part of this giveaway, I asked you what you would like to see more of on this blog. This was the breakdown.
Parenting & Discipline 26.6%
Managing the Home 21.6%Encouragement in Your Christian Walk 17.4%
Using ABC Jesus Loves Me 28.4%
Other 6%
Almost all of the "Other" category consisted of "all of the above" or "keep doing what you are doing."
So, that is exactly what I will do. I will keep focusing on the above topics. And if you ever have a topic in mind, please let me know!