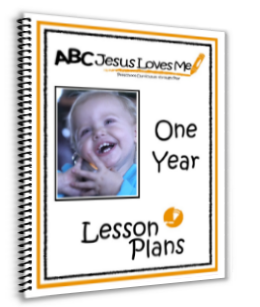 I am chin deep in 1 Year Curriculum.
Oh, haven't you heard?
Yes! ABC Jesus Loves Me is adding a fifth curriculum for kiddos 12-24 months of age.
And I am sooooooo close to finishing. If you are friends with me on Facebook, you have seen the frequent updates and know that I am doing final proofreading with hope of releasing the curriculum to the world in the next few days!
So, I apologize, but I must interrupt this weekly blog post and get back to proofreading the Character Scripture Prayers, Sign Language, Fine Motor Skills, Bible activities, and other wonderful features of the 1 Year Curriculum.
But don't worry, I will return soon!
If you are a blog subscriber and reading this in your email or RSS feed….see the link below to download your free copy of the Easter Activity Workbook.