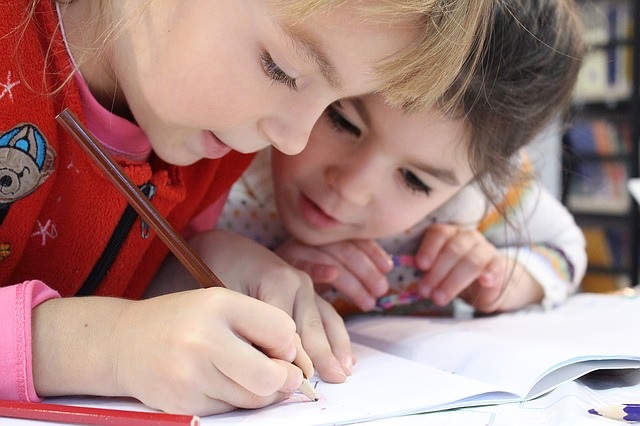 "What do I do with all the papers?"
This is a common question that I hear from ABCJLM users.  So many precious art pieces and first handwriting worksheets that it can get overwhelming.  Here is a post that I wrote several years back and a link to cute notebook coverpages for each curriculum.
With four littles in our home, our refrigerator is not big enough to hold all of the art work and handwriting papers.  Desiring some way to showcase and organize the learning our children were doing during preschool time, I grabbed onto Dina's idea of a Preschool Notebook or Journal which she shared on the ABC Jesus Loves Me Facebook Group.
It's a way to keep current papers accessible, combine all of the activities that the child has done throughout the curriculum, review, and see progress along the way.  I love the concept and want to share it with everyone.
Supplies:
3 Ring Binder
– 1 1/2 to 3″ binder depending on the number of papers you will inserting in binder.
Dry Erase Pockets
or Sheet Protectors
 – These are great for handwriting so that you can use the worksheet multiple times.
Dry Erase
or Wet Erase Markers
 – I like the wet erase markers (Vis-a-Vis) for writing because the tips are more fine than dry erase markers.
 Paper Punch – This makes it easy to add pages to the folder.
Print one of the Preschool Notebook Covers and add your child's name to decorate the folder.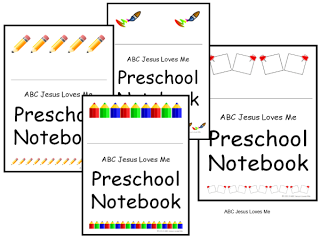 Each one of my children has his or her own folder with the corresponding ABC Jesus Loves Me printable adorning the cover.
Placed at the beginning of the binder are the worksheets that are used for multiple weeks.   This could be a Bible Coloring, Visual Perception, or other worksheet.  Handwriting worksheets are placed in a reusable protector for repeated use.  I also add in a monthly calendar to work on the days of the week, months,  and numbers.  DLTK has several free printable calendars to create.
In the second section are the finished worksheets.  You can organize the worksheets by finish date or by category (Bible coloring, handwriting, etc.) depending on your preference.
Make a daily or weekly tradition to have the child show the notebook to daddy or a family member and explain what he or she is learning.  You can even Skype grandpa and grandma.  Use the notebook on review weeks for further retention of learning.
At the end of the year, empty the workbook to make room for the new year!  If there are any keepsakes, have your child hold the favorite worksheets or crafts and take a picture for memory sake.
---
How do you organize your child's finished projects?
---