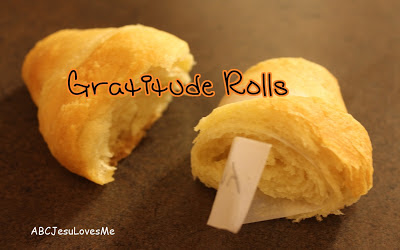 I first saw a few years ago the idea of Gratitude Rolls on Pinterest. Of course I pinned the idea loving the possibility of this tradition. But as Thanksgiving approached that year I realized this idea was everywhere, from the local newspaper to blogs. I'm unsure how I missed this idea for so many years, but thankful as this has easily become my favorite Thanksgiving Tradition! I believe you will love the simplicity, limited prep, and possibilities as well.

As with every tradition, there are several options. I will save your some trial and error and share what I prefer.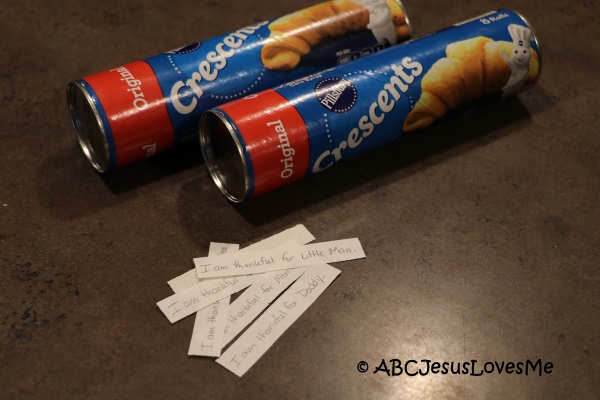 Creating the Rolls:
Grab a can of crescent rolls. If you have time and enjoy baking, make up a batch of butter horn rolls. (For best results use a higher-fat-content roll so the thankful strips don't stick.)
Unroll each crescent roll into a triangle shape. Place one thankful strip (keep reading) into each roll. Loosely wrap the roll into crescent shape. (Tightly rolling will make the paper stick.) Bake according to directions.
There will be less sticking of the paper if the rolls have cooled prior to breaking them open.
Thankful Strips:
Cut strips of paper that are approximately 1/2″ x 3″. I suggest using a pencil to write as pen ink bleeds onto the rolls. Yuck!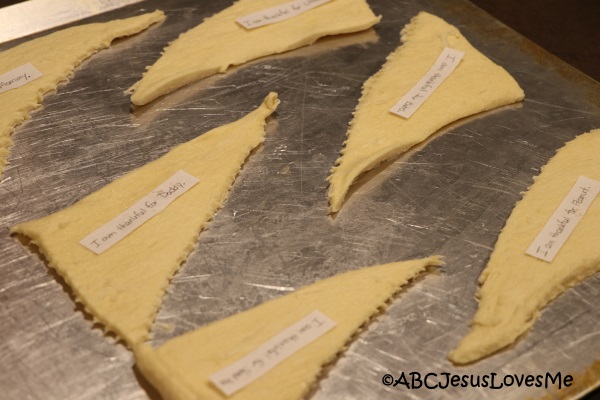 Option #1
Without my family in the room, I secretly placed a strip of paper in each crescent roll. Each strip said, "I am thankful for _____ (the name of a member of our family)."
Personal funny…Because I made the strips too long on the first attempt, Bubs immediately spotted the pieces of paper. Thinking I had made a grave mistake, he protested loudly at the basket of rolls on the table.
One at a time each child broke open the roll and read the strip. Then they said one thing of thanks about the person listed on their strip.
The prep added approximately sixty seconds to the making of the rolls while the character education and legacy was priceless! (At the end of this post, I will share what Bubs said about his sister one year.)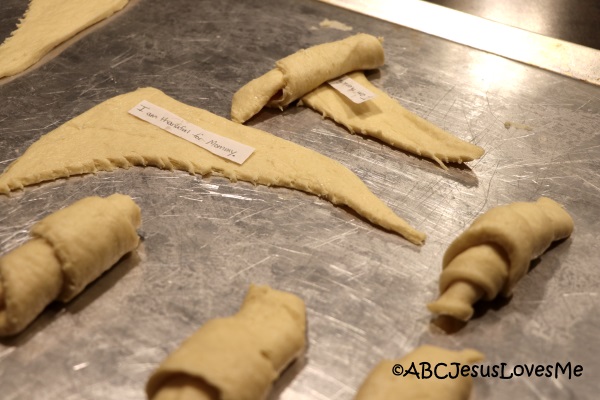 Option #2
Precut strips of paper. When family and friends arrive at your home for Thanksgiving, ask them to write with a pencil on the paper something for which they are thankful. Instruct them to place the paper in a bowl. Insert these stripes into crescent rolls before baking. To begin the meal, pass the cooled rolls around the table instructing each person to take one. Take turns having each person break open his/her roll and read the thankful strip. End with prayer.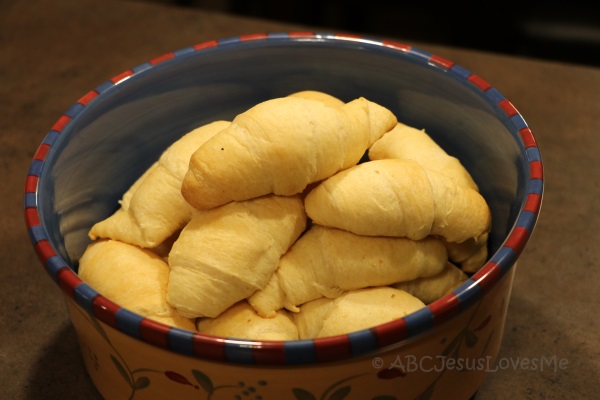 Option #3

Beyond the dinner table, premake the rolls to give to a family in a "Thank You" basket. Let them know how they bless you with notes in the rolls. Perfect for your pastor, teacher, or youth workers. (Warn the recipient ahead of time of the paper-filled rolls!)
Option #4
One website suggested using gratitude rolls on birthdays. Write notes of thanksgiving for the birthday boy or girl.
I was amazed at how easy this activity was and yet what a profound impact it had. This is a tradition that I want to use for years to come.
Oh…and Bubs' thankful spiel about his sister a few years ago? After much thought and fight, Bubs said, "I am thankful that my sister can be mommy when Mommy is sick. She takes care of all of us." So, so true.
Glean more Thanksgiving ideas on the ABCJLM Thanksgiving Idea page. Be sure to "Subscribe" to our blog so you don't miss any other great ideas!
---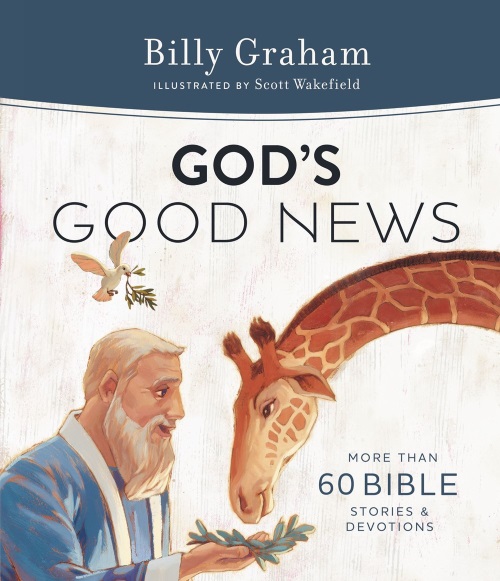 Speaking of traditions…Are you creating the tradition of reading the Bible with your children? Tommy Nelson is rereleasing Billy Graham's devo for elementary-aged children. More than 60 Old and New Testament stories from the New King James Version of the Bible are included. Following each Scripture is a gospel thought from Billy Graham to further explain the story.

After finishing The Beginner's Bible, My Hands-on Bible, and Our Daily Bread for Kids as our devo guides, I am excited to begin God's Good News next with my kiddos!
---