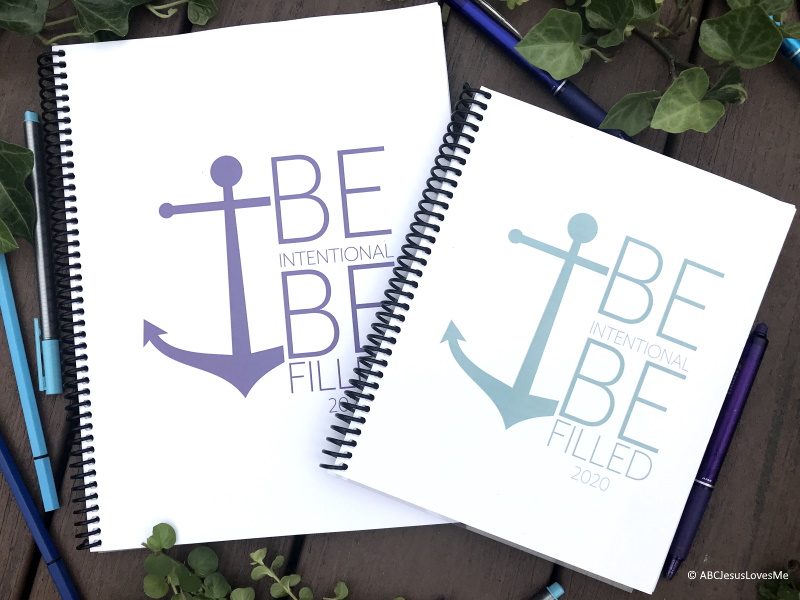 Three years ago, I felt a nudge from God…
Create a planner for all women. One that is simple and affordable to help women around the world be intentional wherever God has placed them.
In October 2018 we offered the first Be Intentional Planner. The popularity was overwhelming. Several times we had to cease orders while waiting for more books to be printed.
The Specs
The Be Intentional Planner is now offered in two sizes: 7 x 8.5″ (small) and 8.5 x 11″ (large). Both are spiral-bound, 12-month notebooks made up of monthly calendars, weekly layouts, year-in-advance pages, and note sections. Example pages provide ideas to best use the planner, but freedom is given to personalize the pages to your needs. Clear plastic covers protect the planner for a year's use.
The covers are doubled for stability. Simply tape or glue the cardstock together at the bottom to create two pockets. Perfect for holding cards, receipts, or important papers.
Monthly Calendars & Notes Sections
Use the Month-at-a-Glance pages to organize activities, appointments, and vacations. Scattered throughout the planner and prior to every Monthly Section are Note Sections. These lined spaces provide an area to make lists, track thoughts, record phone conversations and note memories that you don't want to forget. The organization of the monthly calendars varies between the large and small planners.
Small Planner: All 12 monthly calendars are placed together at the front of the planner.
Large Planner: Each monthly calendar is placed prior to the corresponding Weekly Sections.
Weekly Section
This is my favorite section of the planner as it guides daily activities and focus. Provided is a large amount of space to write hourly activities, a to-do list, and an area to make plans. Also provided is space for a shopping list, notes, and an area for tracking the progress of goals. Example goals could be centered around using the ABCJesusLovesMe Preschool Curriculum, reading with your child, eating healthy, exercising, having a Quiet Time, drinking water, or any other goals that you have.
Because we are commanded to Love God and Love Others (Mark 12:30-31), the planner includes "Be Filled" and "Be Intentional" sections. Write a memory verse or thought, take notes from the sermon, or focus on your spiritual life in the "Be Filled" section. This could also be used for your daily quiet times. "Be Intentional" is the space to write how you will love others that week. Jot down prayer requests, activities you want to do with a child, or teachable moments to look for throughout the week.
Small Planner: Hourly and to-do list spaces are provided for Monday- Friday with side space for the weekends.
Large Planner: Full space is provided for all seven days of the weeks.
Year in Advance
The Year In Advance pages provide space to draft notes for the following year. Write goals, appointments, and vacation times to easily transfer into the next planner.
Why Use Paper in an Electronic Age?
When I initially gathered thoughts toward the "perfect" planner, I received questions about my archaic desire to use a paper planner. I mean…With all of the technology available why would a person choose to step back in time?
I thought the same thing prior to using a paper planner.
But having a pencil and pen planner has been a time saver for me. It also has aided in my goal to use my smartphone less, especially when my children are around. I've found it is much easier to grab a pencil and write down my thoughts than find my phone, log in, and open the various needed apps.
Next, having a planner has helped me see the big picture. It is hard to see everything on a small screen.
The Be Intentional Planners combine needed data and dates instead of requiring several components to track calendars, to-do lists, and other things important to me.
Price and Availability
In my research, I found many of the top planners cost over $60. While their colored pages and fancy design are alluring, they are expensive.
In dreaming about creating a planner I wanted to design something that all women could use regardless of their season of life, that would help them be intentional, and one that would fit into all budgets. Sticking to my mission, the Be Intentional Planners only costs $15.
Gift Ideas
The Be Intentional Planner is a wonderful gift idea for friends, teachers, family, and co-workers. Combine with the following supplies to create a simple gift basket. Or keep the products for yourself! Click to see all suggested products.
Erasable Pens – My daughter loves these pens! Cleanly erases all writing. AMAZING!!! *I have been told that these pens are affected by heat (the ink disappears) so don't leave writing by these pens in a hot car. If the ink disappears, I've been told you can place the planner in a bag in the freezer and the ink will reappear.
Planner stickers – Add some fun to your planner with colorful stickers to denote important dates.
Binder Clips or Paper Clips – Find important pages in the planner with decorated clips.
Sticky notes and Assorted sets – Make important info transferable with sticky notes.
Divider Sticky Notes or Post-It Tabs – Leave a note and index specific pages.
---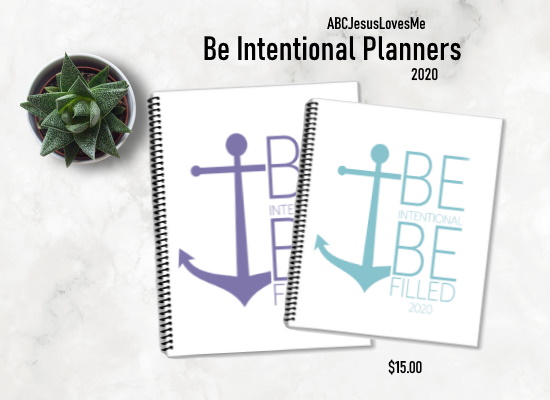 The Be Intentional Planner is available to order for $15 at ABCJesusLovesMe.com for both family and business use and can be shipped worldwide. I hope you enjoy yours as much as I do mine!