She told me, "I've never done this before. I don't know how."
Every one of us could echo those words when we first became parents or grandparents. We didn't have personal experience to draw on. I am so grateful that I was able to look at my mother, father, and grandparents to drive my new parenting role.
But what happens if you don't have a positive role model, especially a father? Is there any hope for your children?
The Extent of Fatherlessness
Fathers.com shares the following data:
An estimated 24.7 million children (33%) live absent their biological father.
Of students in grades 1 through 12, 39 percent (17.7 million) live in homes absent their biological fathers.
57.6% of black children, 31.2% of Hispanic children, and 20.7% of white children are living absent their biological fathers.
According to 72.2 % of the U.S. population, fatherlessness is the most significant family or social problem facing America.
How can men possibly be godly fathers when so few have seen it modeled?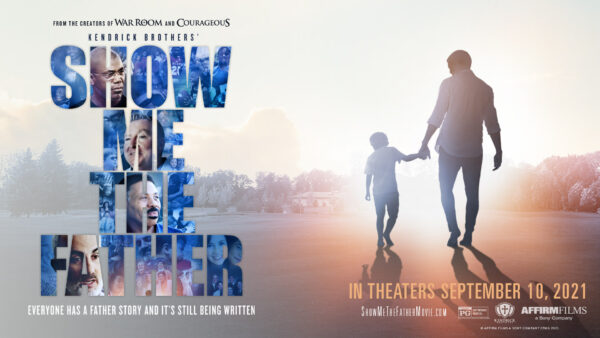 Show Me the Father
This is the question that the first documentary film by the Kendrick brothers desires to tackle. What is the role of fathers? If you had a present father, how does one carry on the legacy? If not, how does a father learn from God, the ultimate Father?
Reversing the society norm of devaluing and mocking fathers, Show Me the Father features a variety of amazing, true stories to inspire and empower fathers to think differently about how they view their earthly father and how they personally relate to God.
Empowering like the movies of War Room and Overcomer, this documentary is a moving, powerful opportunity to spur all of us to let go of excuses and be the parents and grandparents we desire to be.
Show Me the Father is a film for the whole family as there are nuggets of truth and inspiration in it for everyone. Get your tickets today at ShowMetheFatherMovie.com and head to the theater to see this documentary beginning September 10th!
Giveaway
Enter to win 2 tickets to Show Me the Father!
Click the image or link below to enter to win tickets via Fandango for the opening weekend showing, September 10th. This giveaway will end Friday, September 3rd @ 11:00 a.m (CST). Don't wait to enter! The winner will be announced on this blog, so be sure to come back and see if you have won!


Many thanks to Sony Pictures for providing this product/product information for review. Opinions are 100% my own and NOT influenced by monetary compensation. I did receive a sample of the product in exchange for this review and post.