With the vast commercialism of the holiday, Christmas can feel like the whole world is shouting at my children to want more things. As a Christ follower I know this isn't what God desires for Christmas, but that doesn't mean it's any less overwhelming.
So what's a Christian to do? How are we, as parents and teachers, to teach our children and students that Jesus is truly the best gift ever? I understand this struggle and created a brand-new product to combat this issue.
The Happy Birthday Jesus Workbook is a wonderful addition to the ABCJesusLovesMe Holiday products. It provides the tools to share the true meaning of Christmas with the children in your life. And the ideas are simple, meaningful, and fun, too!
▼ Jump to Listen to Episode #23: Ideas to Keep Jesus the Center of Christmas ▼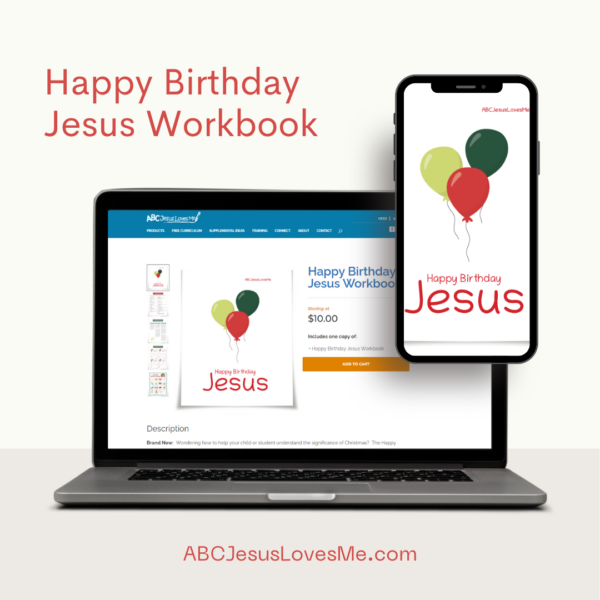 Purpose of the Happy Birthday Jesus Workbook
Melanie: As Heidi always says, "know your why." My why is to celebrate the birth of Jesus Christ, the perfect Son of God who lived a sinless life, died on my behalf, and was resurrected so that I might receive salvation. That statement becomes the focus of my family's Christmas season. The Happy Birthday Jesus Workbook centers around this same why.
All of the activities, recipes, and ideas focus on the goal of helping preschool and elementary-aged kids make the connection between the excitement they feel for their own birthdays and the joy they can experience celebrating Jesus' birthday. Instead of Christmas being all about "me," the child begins to learn that it's really all about Jesus.
Throughout December, talk with your children about how special it is to celebrate baby Jesus' birthday. You will be laying yet another foundational piece to their growing up in the Lord.
What is a Happy Birthday Jesus Party?
Heidi: Just as you celebrate the child at his or her birthday party, a party for Jesus celebrates His birthday and its significance. With a list of simple activities to choose from, you and your child or students will host a birthday party that includes activities like crafts, games, reading the Christmas story, Pin the Hay in the Manger, and Christmas Bingo. No birthday party is complete without a cake, so also included are 2 recipes for a Happy Birthday Jesus cake. These cakes are special because the design offers a unique opportunity to share the Gospel.
Unsure how to share the Gospel with a child? I understand that it can be intimidating. Included in the Workbook are scripted age-appropriate explanations. The workbook also contains a "Continuing the Conversation of Salvation" for those kiddos who feel the tug on their hearts to give their lives to the Lord after hearing the Gospel message.
Whether you have a party for Jesus with your family, in a classroom, or at your church, this promises to be a celebration your children or students will never forget.
Planning the Party
Melanie: As you plan for your Happy Birthday Jesus party, talk with your kids about how Jesus was born a baby just like they were. Include them in preparing for the party and give out the invitations. You can make a cake or cupcakes and decorate with specific Happy Birthday Jesus supplies. There's also a suggestion to have attendees make a gift that can then be given to someone in the community who needs a little Christmas cheer. Even if you choose to have your party with your immediate family, buying or making a gift to share with others fosters the spirit of giving.
However you decide to celebrate, please don't get bogged down in the party planning though! This is meant to be a celebration, not an added stress. And the workbook is strictly a guide. Use the ideas as a springboard to personalize the celebration.
We use many of these ideas in our own families, and we pray that they will create traditions in your family for many years to come.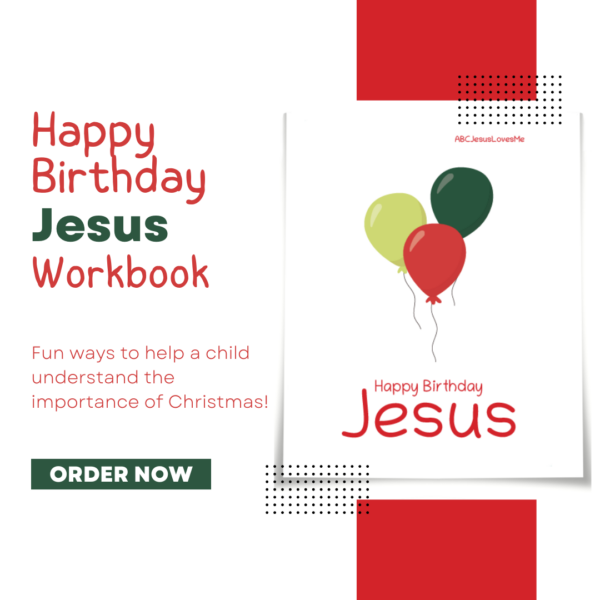 EPISODE #23: Ideas to Keep Jesus the Center of Christmas
Heidi: For more ideas to keep Jesus the center of your Christmas and to discover additional ways to use the Happy Birthday Jesus Workbook, I encourage you to listen to the newest episode of the Parenting to Impress Podcast. I was blessed during the taping and believe you will be encouraged as well.
Happy Birthday Jesus Workbook GIVEAWAY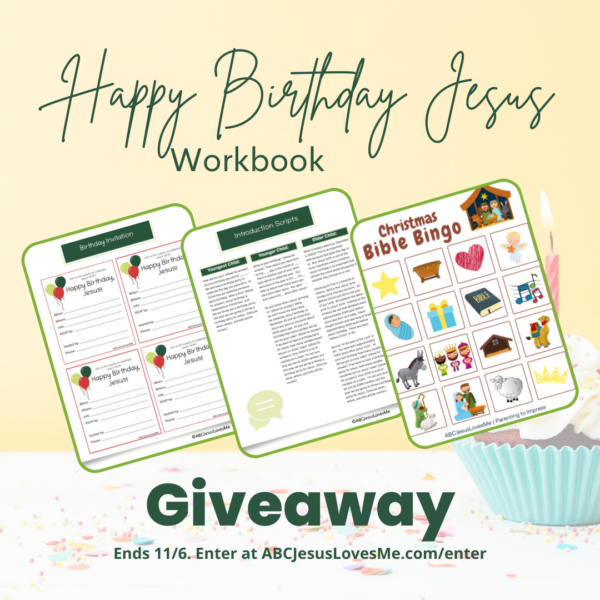 Wondering how to help your child or student understand the significance of Christmas? The Happy Birthday Jesus Workbook is exactly what you are looking for.
With 36 pages, this brand-new workbook is packed full of fun activities, meaningful conversations, and yummy snacks to tie a child's favorite day – their birthday – to God's greatest gift – Jesus. Create a new tradition to celebrate Jesus' birthday with your family and friends. Or, use in a classroom or as a church out-reach event. With ideas for preschool and elementary-aged children, this workbook promises to build understanding of Jesus' birth while making memories for a lifetime.
Continuing our month of gratitude for you, we are giving away a Happy Birthday Jesus Workbook ($10). Click the rectangular image or link below to enter to win. This giveaway ends on Sunday, November 6th @ 11:59 p.m (CST).  The winner will be announced on this blog, so be sure to come back and see if you won.

Or click – www.ABCJesusLovesMe.com/enter/
One entry per household, US residents only. Click to read our Giveaway Rules.