"Impress [financial wisdom] on your children. Talk about [money management] when you sit at home and when you walk along the road, when you lie down and when you get up. Tie [monetary self-control] as symbols on your hands and bind them on your foreheads. Write [financial stewardship] on the doorframes of your houses and on your gates."
You may recognize these verses from Deuteronomy 6:7-9. As I blog and as Melanie and I podcast, I am continually amazed at how these verses apply to every aspect of parenting and teaching. Choose the subject and God has commanded us to train our children on that topic. As we learned in the last podcast, money is one of those topics.
Because money is such a large part of our lives, it is important that we raise children who manage money well and understand that Christ should be the center of all finances…even if we don't feel like we have mastered it ourselves. When thinking about financial discipleship, we must walk our children through the process of money management and involve them in conversations about savings and giving. Here are some ideas to get you started.
▼ Jump to Listen to Episode #36: Teaching Money Management to Kids▼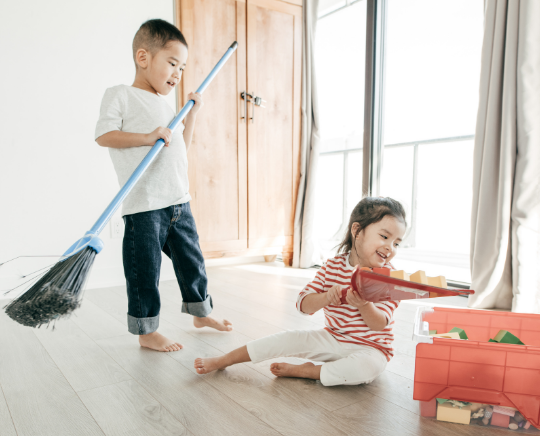 Teaching Preschools Money Management
I believe building a work ethic in children is one of the best ways to begin teaching financial wisdom. Children discover the correlation between hard work, and reward and that money is something earned and not merely received. It also provides opportunity for the child to evaluate purchases based on the amount of work required to earn the money for the product. Work also provides self-esteem in a job well done. Read/Listen to More…3 Way to Build a Work Ethic
It wasn't until talking with Coach T and Melanie in our podcast that I realized the connection between basic discipline and money management. Here are some examples:
Telling a child that you are not buying a toy at the store, teaches the child to wait and instills delayed gratification.
Not buying the child everything she wants allows her to see God provide in amazing ways. For example, if the child wants a new bike, begin praying with the child that God will provide one and then watch how He moves, knowing that He may say no, wait, or yes.
Thanking Daddy or Mommy for his/her hard work while eating supper teaches the child that it is through their jobs that you can eat.
Read/Listen to more…Are You Raising a Selfish Child?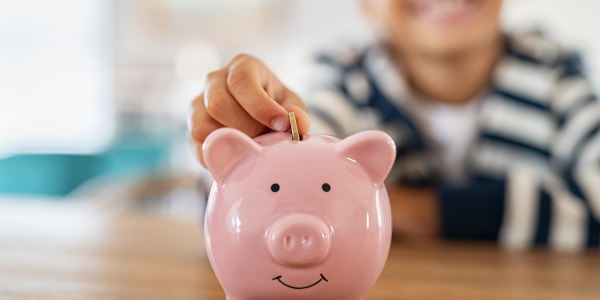 Elementary-Aged Kids Money Management
In the elementary years, it is important to teach children that we are to be good stewards of what God has giving us. God gives to us and in turn, we give back to God. While it is easy to think in terms of tithing or 10%, in reality 100% of what we have is God's.
Here are some ideas to help teach older children about financial wisdom:
Instead of grumbling and complaining about having to pay bills, allow the child to hear you thank God for the opportunity to pay and to have electricity, water, etc.
What is your attitude toward taxes? In Mark 12:17 Jesus commands us to tithe and pay taxes. Healthy conversations about taxes is an opportunity to thank God for what taxes provide: education, safety through police, road systems, etc.
In your home, develop an attitude of gratefulness for what you have been giving. This is manifested through taking care of your belongings, keeping your home clean, and giving away what you can no longer use.
Teach delays gratification and savings by allowing the child to save up for a bigger item. Put money in a goal-labeled jar.
In the grocery store discuss purchase decisions. Look at the various brands, price per ounce, etc to determine best options.
When deciding whether to go out to eat, stay home, or take a sack lunch, discuss costs differences. So that food doesn't go to waste, also evaluate leftover foods in the refrigerator that may need to be eaten.
Little conversations in elementary grow into bigger conversations in teen years.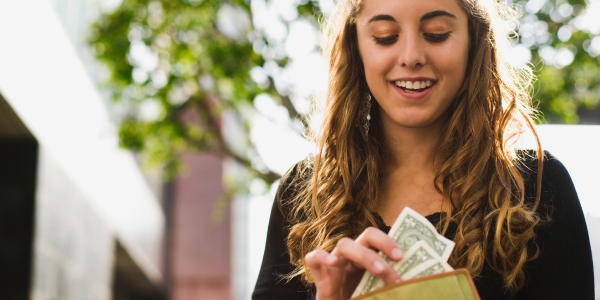 Teens Money Management Questions
As in all aspects of parenting teens, conversations are the central point of raising financially responsible teens. Ask question that help the teen discover the "why" of financial spending and saving.
Why do you want the buy ______?
How much will it cost over a year's time?
Do you need this item or want this item?
How long will you be able to use this item?
What may you need that money for in the future?
Future-focused questions prepare the teen for conversations when they are married.
If you missed the first part of this podcast series, I invite you to listen/read Part 1: Hope in Christian Finances. Then join us in 2 weeks for Part 3: How to Give Even When Money is Tight.
#35: Teaching Money Management to Kids