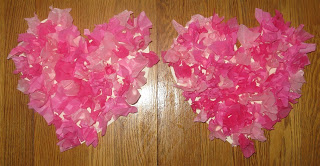 Today I had another blast from my past as Sweet Pea and Bubs made these Tissue Paper Hearts. I cut two heart and many, many squares of tissue paper. I think they turned out great!
Supplies:
– Construction Paper Heart – Don't make it too big unless you are going to do this activity over several sittings. These hearts were a little much for their preschool attention spans.
– Glue – We were actually out of glue so I made some with flour and water.
– Pencil – I like the ones without erasers so the glue doesn't ruin the erasers.
– Different colored tissue paper – They don't have to be perfect just don't make them too small.
– Wash cloth close by for sticky hands
Activity:
Show the kids how to wrap the tissue paper loosely around the eraser end of the pencil. Dip it into the glue (only the tip) and place on the heart.
Great fine motor activity and great fun! You could use this same technique on
Letter
or
Number
Posters as well.