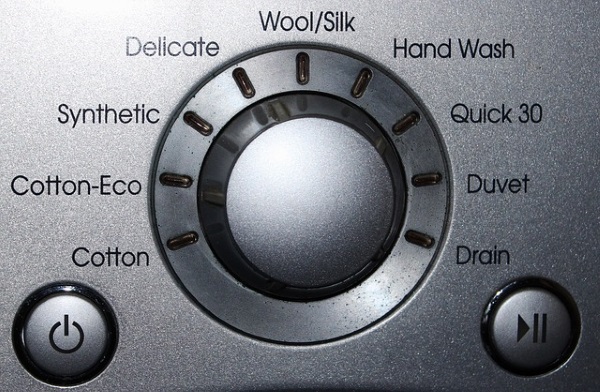 If this is your first visit to our blog, welcome!  We hope that you will stay awhile and check out the rest of Our Out-of-Sync Life Blog as well as our Free Preschool Curriculum website – ABCJesusLovesMe.com.  Thanks for stopping by!  (Several UPDATES have been made to this post.)
In all reality, I am not very "green."  I don't get into organic but I do grow a garden.  I take care of the environment but it has more to do with the fact that I hate trash and waste.  Also, I am incredibly cheap!  If I can save money, count me in.
When I saw the amount of money that I could save making homemade laundry detergent, I was sold.
I just finished making my second batch.   That means that my first batch lasted from December until March.  Pretty good considering how much laundry we do around here!  (Read How I Tamed the Laundry Giant for practical tips on managing laundry.)
Here is my recipe and directions (although I am always open to new ideas!)
4 Cups finely shredded bar soap (1 Fels-Naptha Laundry Bar Soap
5.5 oz bar makes 1 cup)
2 Cups Arm & Hammer Super Wash Soda
2 Cups 20 Mule-Team Borax
I used the Zote
bar (pink in color) because it was available at a local grocery store.  I know that there are other options.  Fels-Naptha Laundry Bar Soap
(yellow in color) is one.  In later batches, I have mixed Zote and Fels-Naptha.
Arm & Hammer Super Wash Soda
  Regular baking soda is not a substitute (talk to a chemist on why this is).  I had trouble finding washing soda so I called the Arm and Hammer corporation to find a place locally that sold it.  They were able to give me a few options.  You can also find it online.

20 Mule-Team Borax
 – This is easy to find.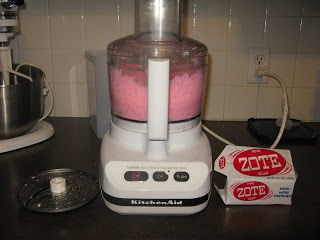 I used the food processor to grind up the Zote/Fels-Naptha bar.  First I grated it and then used the shredding blade to produce a finer texture (pictured below).  (Large pieces do not desolve during washing.)  To the 4 cups of finely grated bar-soap, add 2 cups each of the borox and soda.
I have a front load washer and use 1 T per load (the little measuring spoons that come in formula cans work great for this).  The soap will not suds up so don't panic and think that you should add more.
This recipes comes to about 5 cents per load.  A lot less than the purchased detergents.  I have been very happy with the results.
FAQ:
 – What kind of food processor do you suggest?
I swear by the KitchenAid Food Processor.  I realize that they are pricey but in the case of my KitchenAid Stand Mixer
 as well – so worth the money. I have had the mixer for almost 14 years and the food processor for almost eight years. I use the grater disc first and then the multipurpose blade to make the soap even finer. I have the 11 cup size but it doesn't look that size is available anymore. I would definitely go up to the 12 cup instead of moving down. Use my food processor for fruit smoothies too! Amazing!
– How long does it take to make the a batch of laundry detergent?
I made 2 1/2 batches today and it took me 20 minutes from start to finish.  This made 20 cups of detergent.  That is 320 T or 320 loads of laundry.  Doing 6 loads of laundry a week, this 20 minutes of time will provide me with almost a whole years worth of laundry detergent!

– What is the price breakdown (with tax)?
10 (5.5 oz) bars Fels-Naptha Laundry Bar Soap = $10.57
1 box Arm & Hammer Super Wash Soda, Detergent Booster 55 oz = $3.53
1 box 20 Mule-Team Borax 76 oz = $3.68
Total = $17.78
Per load = $0.05 per load (Minus what was left for the next batch – I used almost all of the soda (minus 1 cup) and had about 3-4 cups of borax left.)
Be sure to read How I Tamed the Laundry Giant and Won.  Practical ideas that I have implemented to drastically cut down the amount of time I spend doing laundry.  And check out my no-heat Liquid Laundry Detergent Recipe!