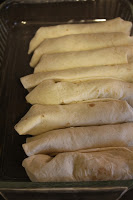 Since we have to leave at 7:10 am to get Bubs to school on time, I am always looking for easy breakfast ideas to have in the freezer. I was reminded of the breakfast burritos. This past weekend, we mixed up several batches of these babies to put in our freezer. This recipe comes from a combination of my aunt, a church cookbook, and trial and error. All ingredients are estimates and should be varied for your taste buds.
Ingredients:
1 dozen eggs
peppers (optional)
1 lb sausage
2/3 lb cubed potatoes (seasoned)
cheese (American, cheddar, Swiss, or another variety of choice)
tortilla wraps (15-20)
Scramble the eggs and cook with cheese on a skillet
Brown the sausage
Brown potatoes and season. Don't cook too long of they will become mushy.
Add sauteed peppers (optional)
Mix all ingredients together
Warm the tortillas for a few seconds in the microwave to make them bendable. Place approx 1/3 cup of ingredients in the tortilla. Top with extra cheese. Softly roll up the bottom and the sides of the tortillas. Place in a pan or wrap individually in foil. Eat immediately or freeze and then warm up. Serve with salsa. Yummy!