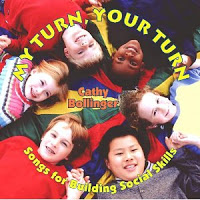 Rivanna Music Cd's by Cathy Bollinger
are sets of CD's suggested in the The Autism Sisterhood: A (brief) Manual.
These CD's were created to provide teachers and children with songs that teach.
As I have stated in several of the last reviews, there is a direct correlation between music and learning. Children and adults are able to remember concepts for many years when they are put to a rhythm and pitch.
I had the privilege to review three of Ms. Bollinger's Cds:
Alphabet Jam
– Songs and Rhymes to Build Early Reading Skills
My Turn Your Turn
– Songs for Building Social Skill
Singing Words – Songs for Language Development
Each CD contains songs that are upbeat and fun to listen to. I love how they include children singing both solo and in a choir. Each song focuses on one concept and included repetition of sounds and words to help the child remember both the words and concept. Ms. Bollinger's voice is relaxing and simple to listen to. She combines her experience as a music therapist with that of parents, speech and language pathologist, and other child professionals.
Alphabet Jam teaches the 26 letters of the alphabet including extra songs on each vowel. This could be used to introduce each letter. The "Adding Apples, Bouncing Balls" song goes through each letter saying an adjective and noun and then the letter's sound (i.e. resting rabbit, /r/ /r/). The vowel songs remind me of the songs on Starfall.com. The rest of the songs are tongue-twister songs containing several words representing each letter's sound.
My Turn Your Turn is similar to the Kibbles Rockin' Clubhouse DVD that I blogged about.
Both teach children how to handle social situations. While these concepts may be very basic for some children, those with sensory issues do not know how to correctly handle being around others. These songs can remind the child what they need to do. Ms. Bollinger suggests humming a few bars from a specific song to remind your child how to handle a particular situation. Besides the basic please and thank you, these songs help with handling anger, looking others in the eyes, and carrying on a conversation. There is a song – Save a Little Bit for Later – that helps a child remember that it is okay to not tell everything that they know. It is okay to just tell a "little bit now, a little bit later."
Singing Words introduces children to the verbs and "wh" questions – Who, What, When, Where, Why, and How. Each song focuses on a different word answering the question (i.e. Who does?, What is?, How do you?). I like The How Song as it takes the child through specific steps needed to complete a task. The When Song discusses appropriate times to do things.
Momma C's Thoughts: These CD's definitely have their place. They are very well done and can be very helpful for parents as they teach their children. I believe the My Turn Your Turn CD could be very useful with children who struggle with social issues. As with every CD, the product will only be as effective as the parent makes them. There is more to each of these CDs than strictly listening to them. And that is a huge draw!
Momma C's Rating:


Thank you to Rivanna Music for providing me the opportunity to review these Cd's.