Boy were my boys excited to see my newest review product! Action figures and play zone just for them! I was excited because it is so hard to find quality, wholesome toys for boys that you can easily take with you.
Both
Goalie Gavin and Slope Shreddin Sean
are 9″ tall action figures available by Manhattan Toy. With bendable arms and legs, a child can make the figures do different things. The arms and legs contain magnets making them able to hold and stick to other metallic objects. Gavin comes with a magnetic soccer ball and Sean comes with a 5″ metal snowboard. Slap Shot Sam, Halfpipe Pete, and
Touchdown Dillon are also available to purchase.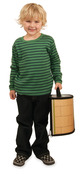 The Boysterous Boys Extreme Sports Zone ZipBin is a multitude of activities in one. On one side is a soccer/football/hockey field with a
half-pipe and skate park on the other. The bin contains zippers to close and create a "home" for the action figures. It contains a handle for easy transporting.
Momma C's Thoughts:
These are some cool toys. My boys have really enjoyed these. The only thing that I can figure is that a mom created these toys. With the combination of sports, magnets, and easy to take with you – winning toy! I love how the toys fit inside the sport zone bin. It keeps everything together neatly.
As I have stated, we aren't into the superheros and typical action toys. These are a nice change of pace. Because the arms and legs are bendable, the child has to use fine motor skills to form the action figure correctly.
Just so that you know I really did review this product, here are my two complaints. The soccer ball has a magnet only on one side so you have to turn the ball to the correct spot for it to stick. Secondly, the bin zipper is hard to close on the 90 degree turns. My fear is that the zipper will get torn when my sons are in a hurry and not being careful.
I immediately started putting the action figures in the diaper bag for restaurants, appointments, etc. But, they keep getting pulled out as the boys want to play with them in the house. This is a toy that will be joining us as we visit different places!
Note in the video below how well these action figures are magnetized!
Momma C's Rating:

Giveaway:
Want to put a smile on a child's face by providing he/she with a fun toy? Win your own action figure!
How to win: "Follow" Manhattan Toys on Facebook or Twitter and leave a comment telling me what you would like to see more of on this blog.
Want to increase your chances of winning?
• Blog about this giveaway on your personal blog.
•"Share" this giveaway on Twitter or Facebook.
Leave a separate comment per entry. This giveaway will end Monday, April 25th 11:59 p.m. Be sure to check back on Tuesday, April 26th as a post will be made on this blog announcing the winner


This is a MamaBzz review. Thank you to Manhattan Toys for providing my boys with some fun toys!