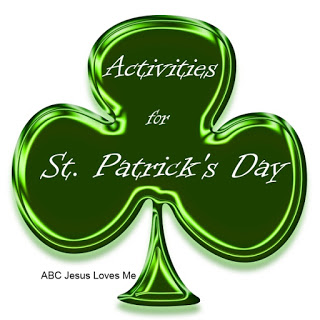 Embarrassing as this is, the only thing that I knew about St. Patrick's Day was that I had better wear green or I would get pinched.
In creating the ABCJesusLovesMe Curriculum, I have realized how much I missed. St. Patrick was an amazing man and remembering the holiday is a wonderful time to teach children about God and His love for us!
St. Patrick:
Thank you to Amanda at Traurigs In Training for sharing this information and the ideas.
Saint Patrick had an adventurous life. He was captured by pirates at
the age of 16. After being a slave to the pirates for six years, Patrick
decided to follow Jesus. He escaped and decided to become a Monk and
later a missionary. Patrick loved Jesus so much that he decided to move
to Ireland and teach everyone about Jesus. He used the shamrock, a
three-leaf clover (Ireland's national flower), to explain the Trinity –
God the Father, God the Son, and God the Holy Spirit. St. Patrick
founded 365 churches, baptized over 120,000 people and consecrated 450
bishops. Wow!
Even while being a slave to mean pirates, Patrick
knew God was with him. Patrick decided to devote the rest of his life to
God and doing what God wanted him to do. St Patrick knew that Jesus
was his forever best friend and wanted others to know Jesus too.
Jesus
is with us all of the time too! We can be just like St. Patrick and
tell others how God loves them and that He will never leave them!
What are some ways that you can be like St Patrick?
ABCJLM Activities: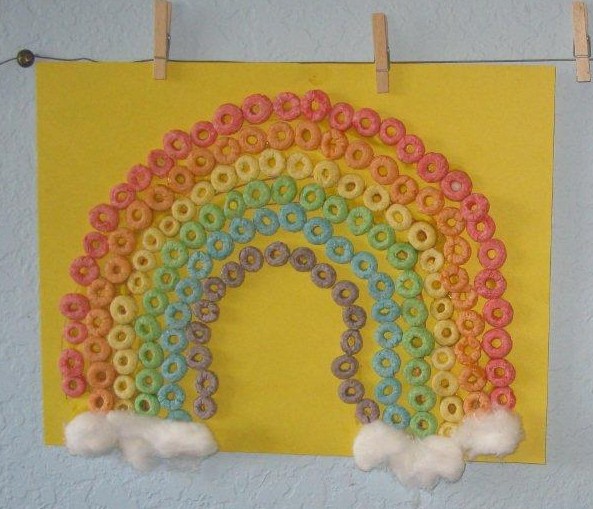 – Make rainbows
Rainbow of Colors
Make a rainbow with fruit loops glued on the rainbow printable.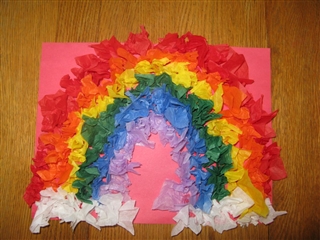 Tissue Paper Rainbow
Make a rainbow by gluing tissue paper on the rainbow printable.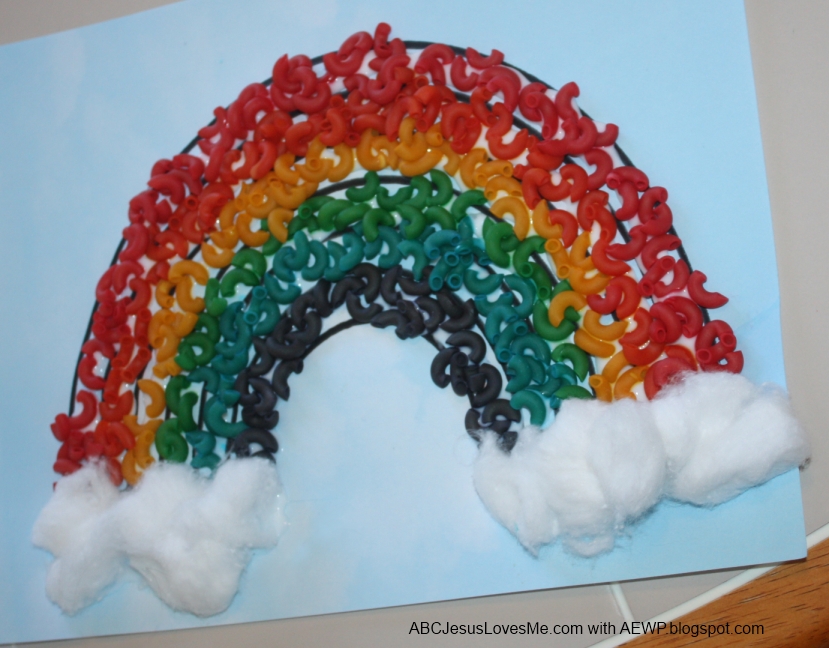 Macaroni Rainbow
Place a few macaroni noodles in a zip-top plastic bag. Add a couple of
drops of vinegar and 4-5 drops of food coloring. Mix to distribute the
color. Dye more macaroni in separate bags. Open the top of the bag and
let dry. Using the Rainbow, place a thin layer of glue on the paper. Add the colored macaroni to create a colorful macaroni rainbow. (Thank you, Alisha, for sharing this picture and idea with us.)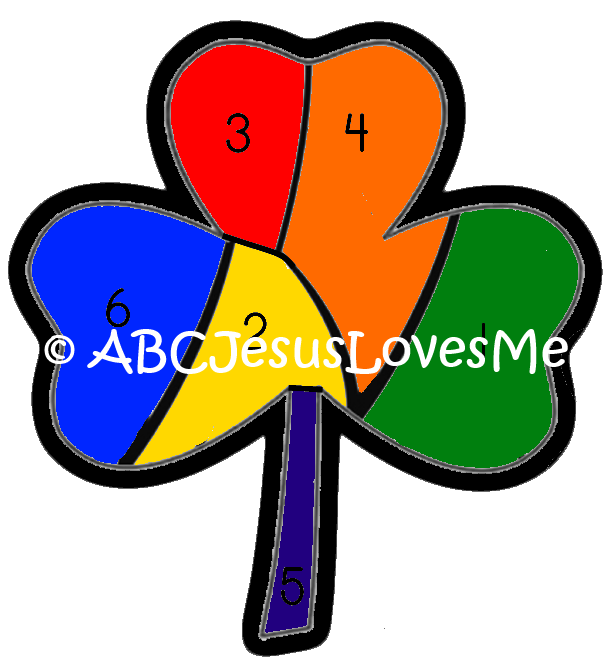 Print the St. Patrick's Day Color by Number Worksheet #1. Roll a die and identify the number. Color the coordinating number. Cut out when finished. (Additional Color by Number worksheets available on the ABCJesusLovesMe.com website.)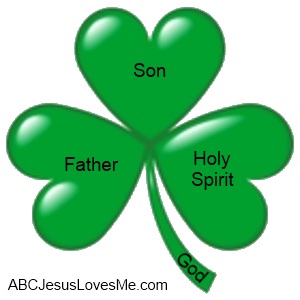 Painting Shamrocks
– Place a blob of white, yellow, and blue paint on each leaf of Shamrock Printable. Mix the colors together to make light green; three colors to form one color. Can also mix three colors of playdoh together. (Thanks to Heather for this idea.)
Twisty pretzels also have 3 parts to the whole pretzel. Make your own or have some for a snack! (Thanks to Heather for this idea.)
More St. Patrick ideas (free video, activities, and crafts) available on the ABCJesusLovesMe website.

What activities do you do to teach your child about St. Patrick's Day?