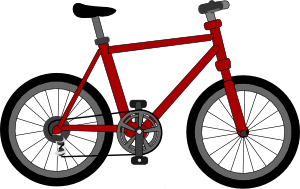 Okay, I don't really know what number of accomplishment this is. The enemy wants me to think that we have only seen a few accomplishments in parenting but when I step back and really look at what God has done, I know the number is much higher.
Today, I ask you to celebrate with me on this particular accomplishment. While it may seem small, it is a big one for Bubs. And in all of the frustration that we have been experiencing lately in the parenting arena, I am choosing to rejoice over each step forward. (Rejoice in the Lord always! Phil 4:4)
In a post a few weeks ago, I shared the frustrations of training children who don't notice the obvious. In this post I was specifically talking about bike etiquette and those kiddos who don't grasp the hidden rules of society. What comes naturally to other kids has to be taught to these kids. Bubs definitely fits into this category.
Here is an example from a long time ago. I remember laying in bed with Bubs, practicing pulling up his covers so at night he would be able to do this when he got cold.
Seems so simple, but activities like this contain a steep learning curve for some kids.
A few days ago, we went on our fourth bike ride of the session. If you remember correctly from the previous post, Bike Ride #1 was filled with failures. Bubs and I spent the last half of the bike ride practicing right and wrong ways to ride a bike while on a trail.
Then at his next speech therapy session, Miss W drew a trail on a piece of paper. They talked about rules of the trail. Next they role played, both pretending to ride bikes.
On the next two bike rides, Daddy and I took turns training Bubs with specific situations and exact instructions.
I am very happy to report that on our fourth bike ride of the season…Bubs did beautifully. I never once saw him cross the middle line. He peddled as he passed someone and gave them plenty of room before crossing back in.
These are huge steps for our little boy. And I sit here praising God for the improvements.
Training, visual drawings, and role playing. And much praise.


Choose one praise to share.