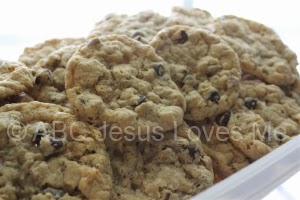 Repost of one of my favorite cookies! We made these in Home Ec class in high school and then the cookies were sold in the concession stands during football games. Continuing the tradition, Bubs made these cookies for a fund raiser that he did with his 4H club too. They were a big hit!
Last night, Sweet Pea and I made cookies to surprise our boys who were at T-ball practice. She practiced counting as we added the ingredients. Being surrounded by two boys, she loves "Girl Time." Cooking is a wonderful activity to involve the little ones. While learning is hidden in the equation, my kiddos feel like a million bucks helping Mommy.
These cookies freeze well and are yummy as summer afternoon snacks.
Bluejay Buffalo Chip Cookies
1 c margarine
1 c shortening
2 c brown sugar
2 c granulated sugar
4 large eggs
2 t vanilla
4 c all purpose flour
2 t baking soda
2 t baking powder
1 t salt
2 c old fashioned oats (not instant)
2 c corn flake cereal
6 oz chocolate chips
1 c Flaked coconut
1 c nuts, chopped
Directions: Cream together margarine and shortening. Add in brown sugar and granulated sugar, until light and fluffy. Beat in eggs, one at a time, and vanilla, until fluffy. Sift together the flour, baking soda, salt and baking powder. Mix into creamed mixture, half at a time. Stir in oats, corn flakes, chips, coconut and pecans.
Drop 1/4 cup spoonful onto cookie sheet (about 6 to a cookie sheet) using an ice cream scoop, spacing well. (Yield: About 3 1/2 dozen 5-inch cookies) Or, drop by tablespoons for smaller, traditional sized cookies (about 5-6 dozen).
Bake in 350 degree oven. 15-18 minutes for large cookies, or 10-12 minutes for smaller cookies.


What is your favorite recipe to make with your kiddos?