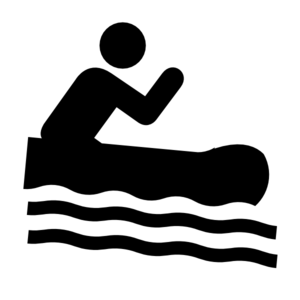 Use your imagination with me for a few moments.
I am standing in the middle of a river. The river is filled with rocks, rapids, and sharp turns. As the water rushes around me, what am I going to do?
Here are a few options.
Try to hold back the water.
With all my ability try to get the water to calm down.
Swim against the current.
Gather every rock possible and throw them to the shore.
Get out of the water all together and run into the hills.
This is an imagery that I received this morning during my quiet time. An imagery so real that I can picture every aspect of the situation.
The river is my life. The rocks are the bumps that keep coming up. The rapids are the rough times. The sharp turns are the unexpected twists God places in my life. I am unable to stop the river, rocks, rapids, and sharp turns. I can't hold them back.
Yet, I see myself standing in the middle of this river trying to dam up the water so that my family can walk on dry land. I see myself demanding that the rolling river calm down. I see myself anticipating every upcoming rock and frantically running to it so that it is removed before my family gets to that point of the river. And on some days, I see myself sitting on the shore (at my computer) ignoring life round me. I have disconnected emotionally and don't want to deal with life at that time.
Silly. I know. Stupid. I see that.
But as ludicrous as it seems, that is exactly what I am doing. I am fighting the roaring river ride of life that God has given me.
Oh, there is one more piece to this imagery. A raft is right beside me. Consistently following me during each feeble attempt to calm life. In this raft is my Savior, holding a paddle to steer.
Do you picture it with me?
And very calm and quietly, He says, "Get in. Stop fighting. Yes, the ride is bumpy and not what you expected but I will steer you. I will protect you. I will steer you around each rock, you will survive each rapid, and you will know how to lean the perfect angle around each corner."
With exhaustion covering every part of my body and tears streaming down my face, I get in the raft. Move to the front and face what we have ahead.
To my surprise, I hear one more calm request. "Turn and look at me."
No! I must see what is up ahead so that I can prepare. I will get motion sick. I will not lean the direction necessary to keep me in the boat. I won't….
"Keep your eyes on me."
With slow movement, I turn my body around and grab the sides of the raft for stability.
"No, my child. Let go. Raise your hands toward me. Keep your eyes on my face. Trust me to guide your movements. Trust me to get you to the end."
Like a child playing the relentless wrist-bending game, I cry "Mercy."
I give up. I can't control what life is throwing my family. I can control who I am allowing to steer my raft and where my faith is residing.


What is your reaction to the river of life? Are you moving rocks? Trying to calm the water down? Or are you sitting on the banks?