My daughter keeps asking me if I have finished this review so that she can have this book to herself. That is how excited she is to add this book to her bedside table. And, seat in the car as this book will travel with her a lot. And, on the couch while she has quiet time.
Precious Princess Bible Doodle Book

is…well, precious. It starts out, "Once upon a time there was a princess named _____." On this page the girl is instructed to add her name and doodle a border around the page. The next page shows a king's robe and says, "The princess's father was the King of all kings, and Lord of all lords. Design the king's robe." A verse finishes the page. Then the girl is instructed to design the robe.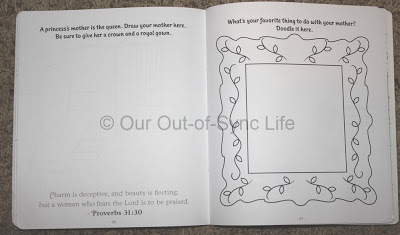 And on and on the book goes telling the princess truths from scripture, allowing her to draw, and then pointing out verses corresponding to the truth. Also included are seventy-five stickers finish the book allowing the princess to place them where she desires. How cool is that?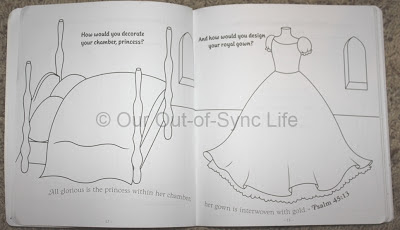 Imagination, fine-motor skill activities, biblical truths, and princesses. Can't go wrong.
Highly suggest this book for any elementary aged girl in your life. Perfect for family vacations, Christmas stockings, birthday, or just to let the little princess in your life now how much you love her.


Thank you to Zonderkidz for allowing me to review this book.