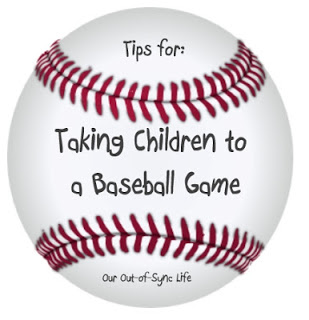 A few days ago we attended a minor league baseball game. The kids had each been given tickets through the local library for participating in a reading program. We made plans with another family to attend and Bubs was super excited!
It was an evening game but it was still drenching hot! Makes it not very fun for the parents but the kids didn't seem to mind too much. Thankfully we had seats in the shade which is the only way that this Mama was going to attend!
Here are a few tips we learned to make the nine innings not seem like nine, long, baseball-drawn-out innings!
Try to get seats that are close to the aisle and on a back row. It was nice not having to worry about bothering the people behind us.
Check the team's website before attending. We learned that the kids would receive a free hotdog, chips, and a drink as it was Kid's Night at the ballfield. This helped in our planning and definitely the cost.
Be sure to check the policy on bringing items into the park. I took in a backpack with toys and water. We were unable to bring fold into the park.
Take toys that can be played with in a seat – coloring pages, books, toy cars.
Set expectations for behavior before entering the park. Will the children be allowed to play at the playground or do you expect them to sit the whole game? Will you be purchasing food and drinks and when?
Be realistic in expectations. Let's be honest – I got tired of sitting at the ball game. Remember that kids have much shorter attention spans than you.
Take frequent walking breaks. Try to do this in between innings to you don't disturb those diehard baseball fans who don't want to miss a play.
Keep you eye on the ball. Foul balls come when you least expect them. For safety reasons, always be watching the game.
Participate in the goofy crowd activities that the announcers and mascots lead. Kids dig this!
For older children, teach them to keep track of runs and/or balls and strikes. Great math activity.
Allow older children to take their ball gloves. Sometimes during warmup, players will give and sign baseballs.
It might be a national tradition, but baseball games are not high on my list of fun. But, we made memories as a family and it will be something that the kids will talk about for a long time. Suddenly sitting in sweat just seems worth it!


What tips can you add?