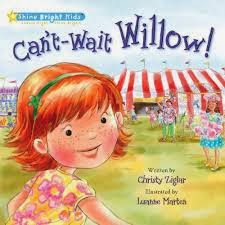 Don't you love when other adults, movies, and books come along side you as a parent and reinforce what you are impressing upon your children? Even though parents are responsible for laying a foundation, when something or someone else says the same truths, leverage is brought to what you are teaching.
The brand new Shine Bright Kids series by Christy Zigler is placing character training in a delightful story about an adventurous character named Willow.
In Can't-Wait Willow!, the circus was finally in town and Willow was so excited. She had her ticket and money to buy the delicious pink cotton candy. But only a few steps into her walk to the circus, Willow became distracted. First the ice cream truck. She knew that she needed to save her money but…"Willow just couldn't say no." Next came her friends, lemonade, a purple stuffed elephant, and a cage filled with colorful birds.
All were temptations Willow just couldn't say no to. When she arrived at the circus, she was late and found she had no money for the cotton candy which she had been dreaming about. All of the things she was so excited for were gone because she couldn't say no to wonderful things along the way. She had missed everything.
While in tears, she was greeted by the circus ringmaster. He explained to Willow the importance of saying "no to little things that are good to end up with a big thing that is truly great!"
And in an excellent example of mercy, the ringmaster gave Willow a ticket for the next night's circus. She was given another chance. The next day, Willow remembered the ringmaster's words and this time told each of the temptations "no." Willow saw that saying no to good things allowed her to experience the best.
Isn't that a wonderful storyline? Filled with lessons on self-control, taking responsibility, mercy, choosing wisely, and perseverance, this character story is sure to become a favorite in your home as it has in mine.
As stated last week in our "Going Beyond the Story" series, the illustrator of Can't-Wait Willow! adds pragmatics and visual perception into this story. A star has been placed on each page. The child must find the star (visual perception) and then determine how the star is feeling based upon the star's image (pragmatics). The star is happy and bright is Willow is making wise decisions. But is the star is dim and deflated, Willow is giving into temptation and not making the best choices.
Ms. Zigler encourages the "grownup" to "help your children recognize the 'choice points' – the moments when a decision is needed." Another great example of "Going Beyond the Story."
This book would be a great addition to your home library, for a Sunday School or preschool classroom, or under the Christmas tree for a child in your life.
And as I promised…
You can add a copy of this book to your own library through our giveaway!

This giveaway will last one week. I will choose and announce one random winner on this blog on Wednesday, November 6th. (So, be sure to check back to see if you have won!) You will have until Tuesday night at 11:59 p.m. (CST) to enter in this giveaway.

Entering couldn't be simpler!

To enter to win, leave a comment sharing one topic you would like to see more of ~and~ one topic you would like to see less of on this blog. And "nothing" is not answer. This is your chance to share how I can help you!


What one topic you would like to see more of ~and~ what one topic you would like to see less of on this blog?