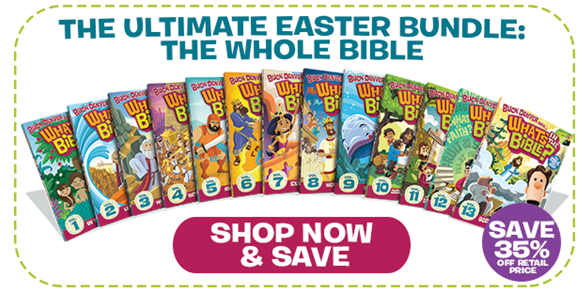 It is hard to believe that it has come to an end. A set of videos
that have explained the Bible and caused us to fall in love with puppets
named Buck Denver, Pastor Paul, and Sunday School Lady.
If you are confused, I beg you to take a moment to read my past blog posts about the "What's in the Bible?"
DVDs created by Phil Vischer and his team at Jelly Telly Labs. You are going to think that I am absolutely crazy when I say it but the
What's in the Bible team, through puppets, have opened our eyes to the
Bible in ways I never knew possible (and I grew up in the church). Moving
from Genesis straight through the Bible, Phil and the puppets explain
each book, break down biblical terms, and show how every story links
back to God's love for us.
Last month, What's in the Bible? released the final episode, covering the General Epistles and Revelations. It was crazy the emotions as we watched. An ending to characters that we have fallen in love with, but in a weird way an ending to a story that we have grown to love. The story of the Bible.
But in watching Video #13 we were reminded how Revelation doesn't end the story. In a way, Revelation is just the glorious beginning for those who know Jesus as Lord.
In the first 25-minute episode we learn about Hebrews, James and the rest of the epistles. The puppets helps us understand that these books teach us how to follow Jesus.
The second episode covers the book of Revelation – the most confusing, image-filled book of the Bible. And in the most amazing way, Phil Vischer explains the book's makeup and meaning. It is something that you have to see to truly appreciate.
View the trailer:
Phil Vischer created a great thing with Veggie Tales. "Saturday morning fun with Sunday morning values."
But, What's in the Bible? is on a totally different playing field. It's the difference between a hotdog and steak. A carnival ride and Disney Land. It's the difference between knowing the "Sunday School" God who created the world, Jonah, and baby Jesus and knowing God on a personal level as Daddy.
Until April 15th, WITB is offering a sale on the entire 13 video collection for only $124.99. Instead of filling your child's Easter basket with clothes and candy, fill his or heart with a God who loves them. You can't go wrong.