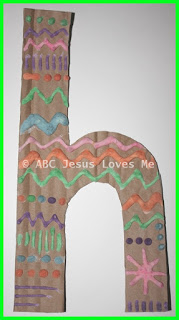 Aren't these fun letters?
Our babysitter brought over the supplies to make Puffy Paint Letters with our kids.  The kids had such a great time that they didn't realize that they were learning and working their fine motor skills.  Mix in a little finger-paint action for a science experiment makes this activity a win-win situation for all!
Supplies
Cardboard
1/2 cup flour
2 tsp baking powder
2 tsp salt
water
food coloring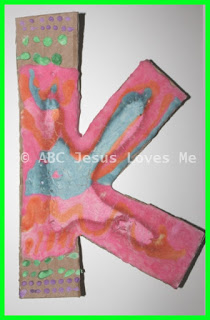 Directions
Cut from cardboard the letter your desire.  (Paper can be used but the cardboard handles the watery mixture better.)
Mix:  1/2 cup flour, 2 tsp baking powder, 2 tsp salt, and enough water to make the mixture into a paste.  Add food coloring to choose the color desired.
Place the mixture in a ziptop bag and mix ingredients.  Cut off the corner to pipe the mixture onto the letter.
Place the letter in the microwave for 20-30 seconds at a time until the mixture has risen and is fully baked.
Discuss how the baking powder forms air pockets in the mixture causing it to puff up.
You can also do this activity with shaving cream – without microwaving. The possibilities are limitless and the kids will enjoy it!  This activity is included in the 5 Year Curriculum to explore the sense of touch.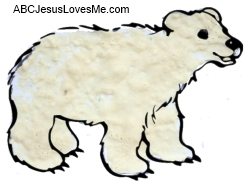 Create a Puffy Polar Bear
See more Letter Learning Activities on the ABCJLM website.