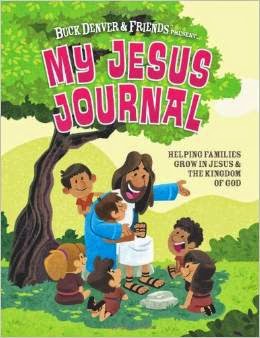 Jesus loves me, this I know.
For the Bible tells me so.
Little ones to Him belong
They are weak by He is strong.
Yes, Jesus loves me.
Yes, Jesus loves me.
Yes, Jesus loves me.
The Bible tells me so.
Hard not to hum along as you read these words.  Why?  Because there is power in these words.  There is power in the name of Jesus.  And, Jesus is the one whom I want my children to know on an intimate level.
It is this desire that lead me to My Jesus Journal, one of the newer supplements from What's in the Bible?.  I wanted something to help my children not just know the basic stories of Jesus but help them know Him as a personal God.
My Jesus Journal: Helping Families Grow in Jesus & the Kingdom of God takes the words of Jesus and information about Jesus to invite an elementary aged child to be part of the Kingdom of God.
My Jesus Journal is about more than learning about Christ, but learning to know Him.
To begin the journal, the child creates a Mustard Tree and adds leaves as a visual representation of how God is working in your family's life.  The tree and example leaves are available to cut out of the workbook.
Some ideas are:
Visit an elderly friend or neighbor
Today I prayed for ______
Memorize a Bible verse
Play a board game as a family
Bake cookies for a neighbor
All ways to see God working in and through your family.
The next four sections of the book help the child create a "My Jesus Journal" with coloring sheets, journaling pages, and verses to help the child understand "Who am I?", "Who is Jesus?", remembering the cross, and "Who I am in Christ?".  The finished journal will tell a story about the child and his or her relationship with Jesus.   (While the journal isn't specifically for Easter, it would be an excellent prelude to the holiday.)
The last section contains family activities that can be done along with the Mustard Tree activity. Great for a Family Night where electronics are powered off and you focus only on each other and God.
I really like the My Jesus Journal and the learning environment it fosters.  I love how it helps me – as a mom – be intentional with my older kiddos.  I appreciate how Phil Vischer and his team is helping me break down the surface layer of Christianity and help my children see Jesus as their personal Lord and Savior.
So, even you if you don't have kids in the elementary age yet, I encourage you to grab a copy for the future or
so you can use it later!


Thank you to What's in the Bible for allowing me to tell you about this great product!