I love getting to know the members of the ABCJLM Family through your emails, blog comments, and Facebook posts!  Learning about your dreams and day-to-day triumphs and struggles.
Through Facebook, Amanda is one of the newest ladies whom I have had the opportunity to friend.  When I found out about her passion and intimate knowledge of Operation Christmas Child, I messaged her to see if she would share with us some insight on how the ABCJLM family can get involved in this amazing ministry.
To all our joy, she did!  And she shared some links that aren't available to everyone.  I will let her introduce herself.
Operation Christmas Child (OCC) is a project of Samaritan's Purse, a Christian relief organization with international headquarters located in the mountains of Boone, North Carolina.  OCC shares the love of Christ with the hurting and needy by mobilizing and equipping the local church throughout the world.   
The shoebox gifts are a tangible way to love on the children of the world.  Local ministry partners distribute the shoeboxes to children in their communities. In many places, a discipleship program called The Greatest Journey is offered to children after they receive their shoebox gifts. Through the program, the local ministry partners are able to establish long-term, caring relationships with children and families by sharing the love of Jesus Christ.
Source…Samaritan's Purse
Love this!  Showing children love through their eyes and then showing children love through their hearts.   By packing a small shoebox full of personal items, toys, and goodies, a child is introduced to Jesus.
BTW, I want to add that the President and CEO of Samaritan's Purse and OCC is Franklin Graham.  Name sound familiar?  Yeah, he's Billy Graham's son.
Let's get to the nitty-gritty and discuss how to pack a shoebox and put a smile on a kid's sweet face. 

The Box:

Our church partners with OCC and thus boxes are available on our church campus.  Our local Christian radio station is also involved.  Most of you will be able to find an OCC partner near you. If not, you can use an empty cardboard or plastic shoebox.  (And then maybe next year your church can become a sponsor!)
Filling the Box:
Next comes filling the box.  First decision to make is whether your gift will be for a boy or girl and then the age category.
This year we will be packing a box for a boy, aged 10-14, as this category often has the least number of shoebox gifts.  Categories include girls (ages 2-4, 5-9, 10-14) and boys (ages 2-4, 5-9, 10-14). 
A label makes sure your box goes to the correct gender and age.  Print one here.
What do you put in the boxes?
Some of our favorite items to include in a shoebox:
• Small stuffed animals or dolls
• Soap & washcloth (many folks put these in a small ziplock bag to keep any candy from tasting like soap)
• Toothpaste and toothbrush  (Update:  Toothpaste may no longer be included)
• Deflated soccer balls with small pump
• Hard candy or tootsie rolls (putting it in a ziplock bag is helpful if it is loose candy)  (Update:  Candy may no longer be included)
• Slinky
• School supplies (pens, pencils, paper)
• Small toys 
I never thought about putting in a bar of soap and a washcloth.  Think what a joy those two items would be if your didn't have your own set to bathe with.
Some things to avoid putting in your shoebox (these items will be removed during the processing of shoeboxes):
• Any war-related items (toy weapons, G.I. Joe, etc.)
• Liquids (bubbles, liquid soap, antibacterial gel, shampoo, etc.)
• Food, drink or chocolate
• Out of date items (toothpaste, candy, etc.)
The Samaritan's Purse website contains more ideas to place in your box.  Still not enough?  Simply google Shoebox Ideas and you will find a plethora.  Just make sure they are all allowed.
Delivery or Mailing the Shoebox
Here's what Amanda has to share:
You can help cover the shipping and other costs related to delivering the shoebox by including $7 in the box.  If you give online you can discover the destination of the box and follow it's journey!
Place a rubber band around each closed shoebox.  You can either mail in the shoebox or drop it off at the closest collection center.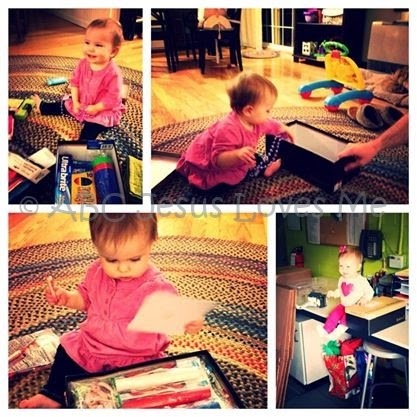 Marianne packing and delivering her shoe box to the Boone Processing Center in 2013.
Including Your Child in the Process
Let's see how Amanda incorporates the Shoebox Ministry in "impressing" upon her daughter.
The great thing about packing shoe boxes is that it is an opportunity for every member of the family to be involved.  It is a fun and meaningful activity to do with your children to instill in them the importance of sharing God's love with others.
Marianne and I go shopping at a couple of toddler-friendly stores (and by toddler friendly, I mean I only have to park once to access all of them) and pick out enough items to fill a shoebox for a child in need.  This year we will color the OCC activity sheet and place it in the box, along with a picture of our family. 
Love this activity sheet as it make the process more personal for the kiddos.  Our kiddos' church classes are putting together boxes as well.  Each age group is bringing a different type of item.  This year we hit the Dollar Store but Target's dollar bins have fabulous items to add too.
How Else Can We Get Involved?
For those 13 and older, there may still be a spot for you at one of our nine processing centers in the United States.  You can also check out opportunities for serving year round in your community with OCC.  Click here to learn more.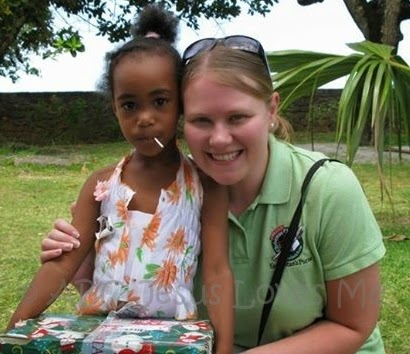 Amanda at the shoe box distribution to a children's home in the Seychelles Islands in 2011.
Get Started Now!
More than 4000 drop-off sites will be available for you to take your filled and labeled shoebox.  Find a local drop-off location here.
Don't think you have time to get it all together before next week?  You can build a shoebox online for $25.
Thank you Amanda for sharing your passion and knowledge of this wonderful ministry.  I hope many of you will get involved.  Be sure to take pictures of your family putting together the boxes and share how you used the boxes to "impress" upon your children (Deut 6:7) on the ABC Jesus Loves Me Facebook Group page!  I will be adding our pictures too.