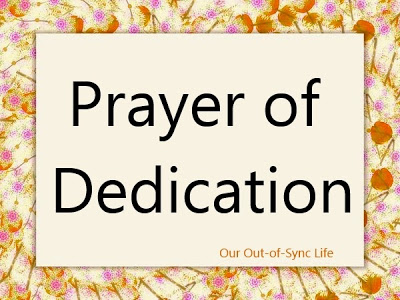 Ever have a cooperate reading at church that causes you to stop in the middle and question whether you should be reading the prayer aloud?  The words are so intense that you can't say them flippantly,  Saying the reading silently, let alone aloud, requires some deep commitment.
That is how I felt when we read the following prayer as a congregation.
Lord, I give myself to You, whatever the cost may be. Take every aspect of my life and use me to glorify Your name. I'm not here on earth to do my own thing, to seek my own fulfillment or my own glory. I'm not here to indulge my desires, to increase my possessions, to impress people, to be popular, to prove I'm somebody important, or to promote myself. I'm not here even to be relevant or successful by human standards. I'm here to please You and to bear fruit that reflects Your presence in my life. 
The desire of my heart is to discover what it means to delight in You. I want to have my heart and mind entranced and captivated by the superlative beauty and sweetness of who You are. I understand that delighting in You alone will dislodge sin from my heart. So help me to learn more fully how to enjoy You, love You, worship You and serve You. 
I'll do anything that You want me to do, go anywhere that You want me to go and say anything that You want me to say. Father, there isn't any gift that You have for me that I don't want. If You want me to move out of my comfort zone, I'll follow You. If You want to use me in a way that I'm not used to, I yield myself to that.   
Today I re-dedicate myself to You. I love You, my God, and I choose to live and minister in Your way. I trust You, Lord, to do that which I cannot do myself. Teach me, guide me, empower me, fill me with Your Spirit and reveal Yourself through me. May the fruit of my life demonstrate to others the difference You are making in my life and cause them to want to know You. 
In Jesus' Name, Amen
Wow!
Now that you've had a read through, can you read it again as a prayer?  Can you mean every word as a dedication?Take a moment and think it through.  Be honest with yourself and God. For me, I am praying that my heart will be turned to the truth of this prayer.  That some day I can pray each word without an ounce of hesitation.
For 2014, my focus word was love.   God taught me so much about loving Him.  Loving myself how He created me.  And loving others…even those who don't return my love in the way I desire.  God is no where done with teaching me to love as He loves.  But, I am very thankful for the journey we are on together.
I don't know what 2015 will bring but my desire for the year is to learn to delight in the Lord.  I want "my heart and mind to be entrances and captivated" by the beauty and sweetness of who God is.
What is your focus for the year going to be?  Finding joy?  Peace?  Maybe you simply desire to have a consistent quiet time.Whatever God leads you to focus on, I encourage you to share it by leaving a comment below.  Then grab your
Quiet Time Journal
and a pen because God is going to change your life in 2015.
Unsure how to have a quality Quiet Time?  Be sure to read our
free ebook
.
I am unable to find the original source of this prayer.  From what I can find it is similar to a pray by Ruth Myers in her book Thirty-One Days of Praise: Enjoying God Anew (31 Days Series)
.  It was shared to our congregation by author Dr, Gary Oliver
.