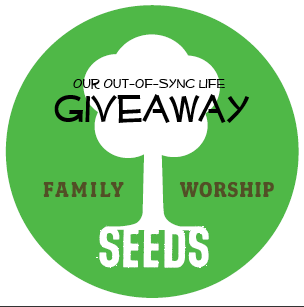 Memorization is not my gift. Not only is not my gift, I struggle to memorize anything. Needless to say Scripture memory is rough. I can quote very few verses that I have memorized straight from the Bible.
But, praise God for music! Almost every verse that I can quote is from a song I learned as a child. For this reason I provide piggyback songs or CD's for the verses in the ABC Jesus Loves Me Preschool Curriculum. The melody and rhythm of the song leads you through the verse.
This is why I love, love, love Seeds Family Worship
CD's. Scripture and music. And it's good music too!
These are not your typical "kids" CDs. Each of the eight CD's contain 10-12 verses set to a lively beat which can be enjoyed by kids and adults of all ages! Every person in your family will enjoy the CDs which will never be outgrown! In other words, in a few years, you will not have to find a family with young kids to pass the Seeds CDs on to!
If you listen to all eight CD's, you will have hidden 91 Bible verses and their reference in your heart. Ninety-one! That is amazing. Several of these verses are ones that are included in the ABCJLM curriculum. On the Seed website you will also find – for free – Memory Verse cards and Chord Charts for each of the songs.
Recently Seeds Family Worship and What's in the Bible? partnered together to create a multi-media worship event called the "God's Awesome Word- A Family Worship Experience." This is what the Seeds website has to say about it.
The Seeds Family Worship team will lead worship throughout the event, featuring their signature word-for-word scripture songs. Phil Vischer (creator of Veggie Tales and What's in the Bible?) will join the event via video with Buck Denver and his friends from What's in the Bible. This fun, interactive event includes new music from Seeds Family Worship and original content from What's in the Bible that highlights the awesomeness of God's Word.
Click to see if an event is coming near you.
Seeds motto is "Planting the seeds of God's Word in the hearts of families." Isn't that what we want to do as parents? Plant the seed of God's Word in our kiddos' hearts.
This is why I was so excited when Josh, the producers of these fabulous CD's, emailed me to see if I wanted to give away five copies of their brand new CD! I was delighted over the opportunity because I love to provide the ABCJLM and OOSL families with fabulous products. And these CD's would be perfect under the tree.BTW – If you are an Amazon Prime subscriber, some of the past Seeds Family Worship
CD's and songs are FREE right now! Not currently an Amazon Prime subscriber? You can start a free 30-day trial today
.

Giveaway:

Enter: To enter to win one of five copies of The Word of God

Cd, leave a comment with your first name and last initial on this post along with your favorite Bible verse.
(i.e. Heidi F. My favorite Bible verse is … )


Bonus Points: Want to earn extra chances to win? If you are not currently subscribed to this blog, now is the time! Leave a separate comment with the beginning part of your email address and the date you subscribed below letting me know that you subscribed ~and~ confirmed your email address or that you subscribed to the RSS Feed. This must be a new subscription.
(i.e. heidi@ 12-1-14)


Or…if you have yet to "Like" ABC Jesus Loves Me or Our Out-of-Sync Life on Facebook, leave a separate comment (with your Facebook name and first initial) with the date you liked below letting me know that you did this.
(i.e. Preschool C. liked ABCJLM on 12-1-14)
(i.e. Preschool C. liked Our Out-of-Sync Life on 12-1-14)


Giveaway details: I will choose and announce five random winners on this blog on Thursday, December 4th. (So, be sure to check back to see if you have won!) You will have until Thursday (11-4-14) at noon. (CST) to enter in this giveaway. You must have an US address to win. If you have won a product on this blog in the last 3 months, you are not eligible to win again. Winner is subject to eligibility verification.
This post contains affiliate links.