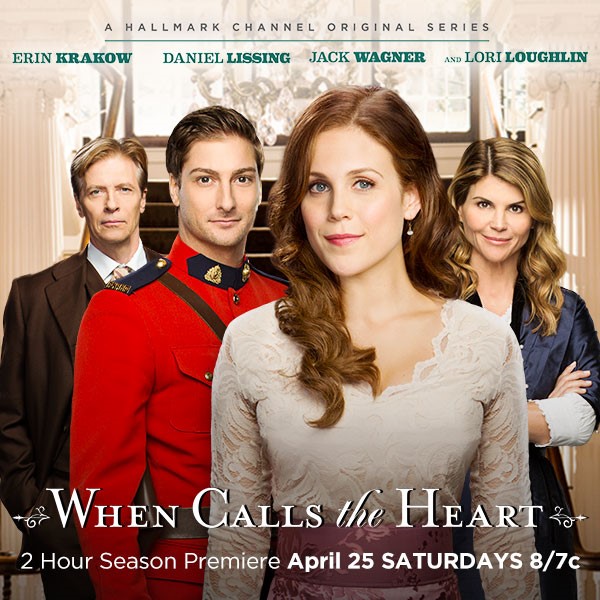 Keeping more than basic cable for one show seemed really silly. But a part of me desired to keep those "higher" channels just so I could see what would come of Miss Elizabeth Thatcher and Constable Jack Thornton. But balancing the budget always trumps desires! So as soon as I bumped down to basic cable, I called my parents and asked them to tape the upcoming second season of When Calls the Heart for me. They assured me that the DVR is already programed.
If you are confused by my excitement for an upcoming Hallmark TV series, let me share this explanation from FlyBy Promotions.
The series is inspired by Janette Oke's bestselling book series about the Canadian West. "When Calls the Heart" tells the captivating story of Elizabeth Thatcher (Erin Krakow), a young teacher accustomed to her high society life, who receives her first classroom assignment in Coal Valley, a small coalmining town where life is simple, but often fraught with challenges. Lori Loughlin plays Abigail Stanton, a wife and mother whose husband, the foreman of the mine, along with a dozen other miners, has just been killed in an explosion. The newly widowed women find their faith is tested when they must go to work in the mines to keep a roof over their heads. Elizabeth charms most everyone in Coal Valley, except Constable Jack Thornton (Daniel Lissing) who believes Thatcher's wealthy father has doomed the lawman's career by insisting he be assigned in town to protect the shipping magnate's daughter. Living in a turn of the century coal town, Elizabeth will have to learn the ways of the frontier if she wishes to thrive in the rural west on her own.
When I was in high school, Janette Oke was the Christian fiction author. I immediately think of her series Love Comes Softly
and book Roses for Mama. Several of her books continue to be favorites on my bookshelf. A few have been made into movies and now a Hallmark TV series.
When Calls the Heart launched last year and it was a huge success. After much anticipation, Season 2 is airing on April 25th! Click here to see the preview.
To peak your interest, I was given a sneak peak viewing of the Season 2 Premiere! There are twists and turns that I didn't see coming. The relationship of Elizabeth and Jack is hit with new surprises that you won't want to miss! But I don't want to give anything away, of course.
I will say that since it has been several months since watching Season 1, it would have helped if I would have had a refresher course before watching the Premiere. While the show does a good job of reminding the viewer of what happened in Season 1, I believe I wouldn't have missed so much of the Premier trying to remember what happened. So, I encourage you to grab a copy of the first season on DVD. Or better yet, why not enter to win a copy!
Giveaway:
FlyBy Promotions along with Word Films has provided the opportunity for you to own the When Calls the Heart: Complete Season 1

DVD set. That's a $60 value! Click on the rectangular image below. This giveaway will end on Tuesday April 28th @ 6:59 p.m (CST).



And don't forget to tune in Saturday night, April 25th on the Hallmark Channel for the live premiere of When Calls the Heart, Season 2!
This post contains affiliate links.
If family-friendly entertainment is important to you, be sure to check out the newest savings from
What's in the Bible
– almost 50% off the DVD set!

"Disclosure (in accordance with the FTC's 16 CFR,
Part 255: "Guides Concerning the Use of Endorsements and Testimonials in
Advertising"): Many thanks to Propeller Consulting, LLC for providing
this prize for the giveaway. Choice of winners and opinions are 100% my own and
NOT influenced by monetary compensation. I did receive a sample of the product
in exchange for this review and post.

Only one entrant per mailing
address, per giveaway. If you have won a prize from our sponsor
Propeller / FlyBy Promotions in the last 30 days, you are not eligible to
win. If you have won the same prize on another blog, you are not
eligible to win it again. Winner is subject to eligibility
verification."