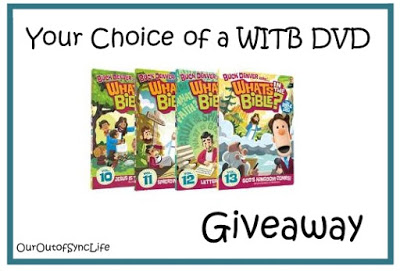 I am super excited to give away – to one ABCJLM family member – her choice of a What's in the Bible? DVD!
Out of 216 entries, the randomly chosen winner is:
Entry #72 – Brandi T (email bnthur…@)
Brandi, please contact me within 48 hours using the winning email address and be sure to include your mailing address and your choice of WITB DVD. You can peruse the list on the What's in the Bible? website. Thank you to everyone who entered. Thank you to WITB for providing this giveaway.
And for a blog update:
Due
to the huge spike in visitors and activity on the ABC Jesus Loves Me
website during the summer months, I am once again being pulled in all
directions. To help me balance work and family, I am going to only be
posting on this blog on Tuesdays. Remember that you can still receive
daily updates on the Our Out-of-Sync Life Facebook page and the weekly ABCJLM Newsletter. I hope that you will take a moment to "Like" and subscribe to each.
Talk more you tomorrow!