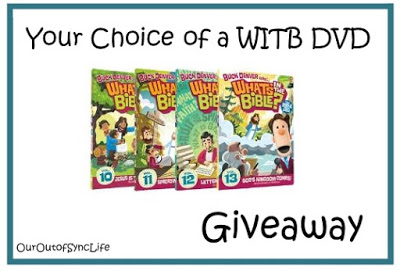 About a month ago I spent the day messaging back and forth with a momma who had questions concerning the translation of the Memory Verses used in the ABC Jesus Loves Me Curriculum. This convo quickly led to the differences between the Catholic and Protestant Bibles. To answer her questions, the Holy Spirit immediately brought to my mind the "In the Beginning" DVD from What's in the Bible?. A children's DVD that covers this exact question.
Today at lunch, the definition of covenant came into conversation. I was super excited to see our kiddos explain what a covenant is. Can you guess how they knew the answer? What's in the Bible? Dvds!
It's not just the witty humor that draws me to these DVD's. Although there are some very humerous lines. It not just the fun puppets and the creative animation. Although the imagination of Phil Vischer and his team is amazing. The draw is how each scene of each of the 13 DVD's broadens our family's understanding of the Bible in simple and powerful ways.
And that is why I continually suggest, purchase for friends and family, and place in the DVD player for our children to view the WITB DVD's. This is also why I get super excited to be able to give a DVD away to one in the ABCJLM family and our blog friends.
Giveaway:
Jelly Telly Lab has provided a free What's in the Bible? DVD ($14.99 value) of your choice
for me to giveaway. The winner will have his or her choice of one of the thirteen WITB DVD's covering Genesis to Revelation. Click on the rectangular image below to enter. This giveaway will end on Sunday July 12th @ 12:59 p.m (CST).




Don't want to wait to see if you have won? Check out these options to add the fabulous WITB DVD's to your family or church library.
Rent on Amazon Instant Video for only $1.99
Purchase to Download on Amazon Instant Video for just $5.99
Today Only – Purchase a DVD on the WITB website and save 33% on orders over $33 with code WITB33!
Be sure to Like ABC Jesus Loves Me on Facebook to find out about future great deals and savings on WITB products.
This post contains affiliate links. When you click on these links, I may receive an itty-bitty commission at no additional cost to you.