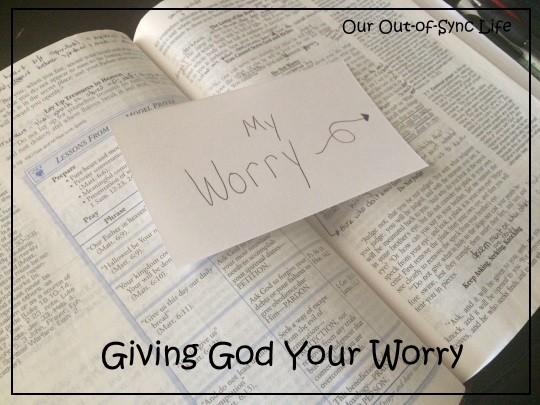 Each morning I watch the local news.  And between the crime, corruption in the government, and the unrest around the world, I can find myself in a heap of worry.
My mom shared with me an idea that she heard at Bible study last week.
Whenever something is on your mind that is causing you to worry, write the issue on a 3×5″ card.  Then place it in your Bible signifying that you are giving it to God.  Knowing it is in God's hands, you don't have to worry anymore. 
I love the imagery of this! 
What is your worry?
Job
Finances
A child
A new situation
A change
Whatever the worry is, I encourage you to pray one of the below scriptures as you place the situation into God's hands.  Also, choose a verse to pray whenever the enemy spurs you to worry again.  Post the verse around you home.
Matthew 6:34   Therefore do not be anxious about tomorrow, for tomorrow will be anxious for itself. Sufficient for the day is its own trouble.
Luke 12:25  And which of you by being anxious can add a single hour to his span of life?
John 14:27  Peace I leave with you;my peace I give to you. Not as the world gives do I give to you.Let not your hearts be troubled, neither let them be afraid.
Psalm 56:3 When I am afraid, I put my trust in you.
Psalm 55:22   Cast your burden on the LORD, and he will sustain you; he will never permit the righteous to be moved
Hebrews 13:6 So we can confidently say, "The Lord is my helper; I will not fear; what can man do to me?"

Romans 8:31 What then shall we say to these things? If God is for us, who can be against us?
Philippians 4:6-7  Do not be anxious about anything, but in everything by prayer and supplication with thanksgiving let your requests be made known to God. And the peace of God, which surpasses all understanding, will guard your hearts and your minds in Christ Jesus.
I Peter 5:7  Casting all your anxieties on him, because he cares for you.
Psalm 23:4 Even though I walk through the valley of the shadow of death, I will fear no evil, for you are with me; your rod and your staff, they comfort me.
Psalm 46:10  Be still, and know that I am God. I will be exalted among the nations, I will be exalted in the earth!
Join me friends.  Let's hand it over and not take it back!