Today's blog post is a Capricorn of ideas and info.  Be sure to check out each point!

Road Trip Activity Workbook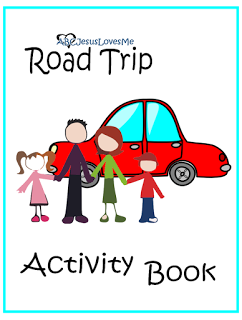 Many of you will be traveling for Thanksgiving and/or Christmas.  Make your trip a little easier with the free ABCJLM Road Trip Activity Workbook.  A collection of activities and games that we did to keep the kiddos busy while building memories for the whole family.  
Here is a list of activities and games that you will find in the ABCJLM Family Vacation Activity Book.

   The License Plate Game
   Color Candy Counting
   Would You Rather?
   Road Trip Bingo
   Get To Know You
   Tic Tac Toe
   Additional Road Trip Games
Giveaway
I am super excited to give away the ESV Journaling Bible and the brand new When You Lie Down: Lullabies and Scriptures Songs CD from Seeds Family Worship!
Out of 280 entries, the randomly chosen winners are:
Entry #109 – Sue S. (email mz.suz…@)
Entry #167 – Dana S.  (email danalbs…@)
Both winners, please contact me within 48 hours using the winning email address and be sure to include your mailing address.  The first one to contact me can choose between the journaling Bible or Seeds CD.  Thank you to everyone who entered and thank you to FlyBy Promotions and Seeds Family Worship for providing this giveaway.
And if you didn't win this fabulous resource, you can purchase the ESV Journaling Bible on Amazon and Seeds Family Worship CD's on both Amazon and the Seeds website.     


Happy Thanksgiving
As you prepare this week for Thanksgiving, I pray for you a poem written by a sweet woman in my life.
 Lord, teach us we pray
to love and praise you every day;
For every blessing is from above
pure and sweet as a gentle dove.
 Teach us always to do thy will
and when you speak to be still;
For You will lead and guide each day
 if we will seek thy face and pray.
 And may we at this time of year
realize your coming is near;
And spread the news throughout the land
and help to save our fellow man.
 So thank you for the blood you shed
to give us life though you were dead;
But rose again to set men free
to live in peace for eternity.
This post contains affiliate links. When you click on these links, I may receive an itty-bitty commission at no additional cost to you.
From our family to yours, Happy Thanksgiving!
Wishing you a blessed time of reflection on what the LORD has done in your life.