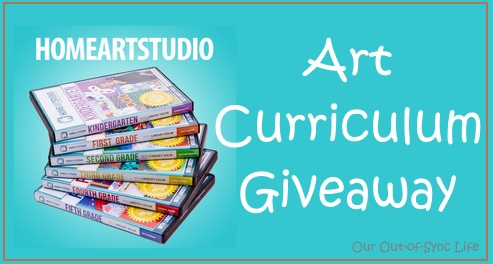 Last year, I was asked by Lindsey to review her Home Art Studio DVD series. I was skeptical but decided to give it a try as I am a terrible artist and thought maybe I could learn something along with my five-year-old.
Right before Christmas I received a wonderful set of art supplies and the Kindergarten Curriculum DVD. Peanut and I were excited to begin so as soon as we had a break in our week, we popped in the DVD to give it a try.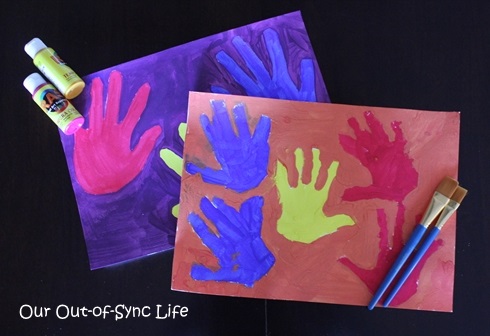 The Kindergarten program includes 18 projects that focus on different aspects of art. For starters, Peanut and I mixed colors to create this fun handprint art project. He was so excited about it that he asked me to put contact paper over it to create a table place mat. It will be a fun memorabilia for many years to come!
Lindsey teaches the viewer how to do each project, talking about
different art techniques along the way. We watch the video project
all the way through and then go back and watch it in segments,
stopping to do each specific task along the way.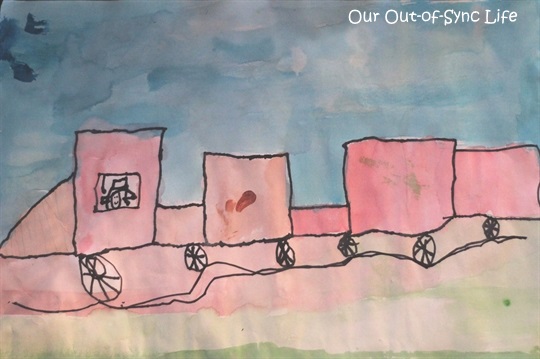 The train above is my favorite project for Peanut. At first he didn't think he could do it but once he got started his confidence grew. I am so proud of his finished project.
For an owl project (not pictured) the video includes a "Field Trip"
where a lady shares information about owls and introduces the viewer to
an owl that is injured. This makes the owl project so much more
meaningful.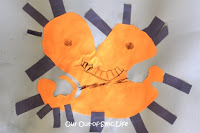 Beyond art, Lindsey also teaching science and life skills. In one activity, the viewer learns about germs. Over Christmas break, all four kiddos got in on the art action. I loved seeing the different personalities come out in their creation.
Some of the projects took a little long for Peanut, but he was happy to return to finish after a short break. Sometimes breaks were forced as various project required the paint or glue to dry before moving on. The curriculum suggests completing one project per week, which I think would be perfect as there are several steps to some of the activities.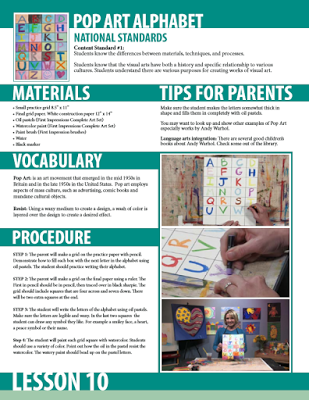 Also included on the DVD is a Kindergarten Art Curriculum with tips for parents, art vocabulary, procedure steps, and images. Basically covers everything on the DVD but provides additional insight and a materials list.
While I only reviewed the Kindergarten DVD, Lindsey offers five additional DVD's for 1st – 5th grade as well. Each are $29.99. To view sample lessons and learn more, I encourage you to visit Lindsey's website – www.officialhomeartstudio.com. See free art lessons, example artwork, and find out more about her art curriculum. Also follow Home Art Studio on Facebook.
Peanut and I look forward to finishing the Kindergarten Curriculum. It has provided a great foundation in drawing and painting, and has developed confidence in a child who has been hesitant to try art projects.
Giveaway: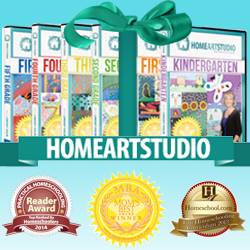 I've been dropping hints for a few weeks about an amazing giveaway and this is it! Lindsey has kindly allowed me to give away the complete Kindergarten – 5th grade DVD Art Curriculum to one ABC Jesus Loves Me/Our Out-of-Sync Life family. That is a $180 value! (How I wish I could enter to win the entire set too!)


Click on the rectangular image below to enter to win this wonderful set. This giveaway will
end on Monday, January 18th @ 12:00 p.m (CST). Winner will be announced January 19th on this blog.

This post may contain affiliate links. Without any cost to you, when clicking on these links you are helping to support the further development of this blog and the ABCJLM website.
Speaking of curriculum, be sure to check out the free
ABC Jesus Loves Me
Preschool Bible Curriculum!