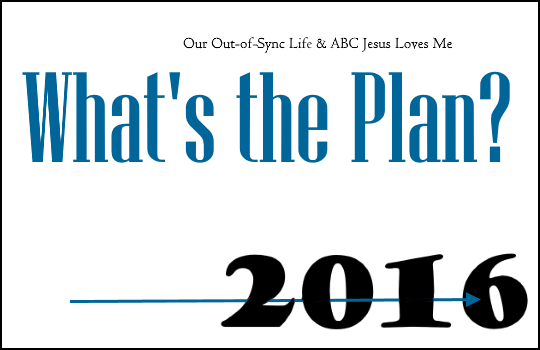 Happy New Year! I pray that your new year is off to a great start.
Last week, I shared how I want to reFocus my own life in 2016 and today I want to share what I have planned for the ABC Jesus Loves Me website and this blog.
1. Teaching
I have loved your feedback on the weekly Periscope Broadcasts/YouTube videos. You enjoy ABCJLM but are struggling to know how to incorporate it into your home and the child's play. So in 2016, look on this blog and in the Periscope Broadcasts for more specific ideas to help you teach your kiddos Bible stories, academics, reading books to them, etc. Be sure to let me know if there is a specific topic you would like covered.
2. 1 Year Curriculum
If you read Saturday's ABCJLM Newsletter, you know that I am committed to finishing the 1 Year Curriculum by this Spring. The outline is basically finished, I am creating worksheets, and I'm ready to begin the Lesson Plans. Be sure to subscribe to the Newsletter for current updates.


3. Parenting
The second topic that you have asked for is parenting help. In the coming weeks, you will see many blog posts and Periscope Broadcasts on such topics as teaching your child to sit quietly, how to implement a time out, and how to handle children who don't want to do what you ask. Not because I have parenting all figured out but because I have made a lot of mistakes along the way and know what not to do! After broadcasting, some of theses videos will be published on our YouTube channel. Be sure to subscribe so you don't miss new uploads!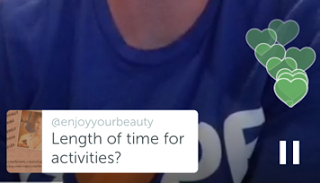 4. Periscope

While I have taken off the last couple of weeks due to Christmas, I
plan to do weekly Periscope Broadcasts covering topics already
mentioned and many more. If you are unsure what Periscope is, be sure to read this post and learn how to join us. The great thing about Periscope is that as you view a live broadcast, you can comment and ask questions! Broadcasts will be announced on the ABCJLM Facebook page.
Be sure to subscribe to our events so you don't miss one.
5. Speaking
While I love "speaking" with you through email, Periscope, and Facebook, my heart's desire is to speak with you in person. I would love to speak at your Women's Ministry Conference, Parenting Weekend, and Teacher Inservices. This is the year that I hope to meet you!



6. Updating ABCJLM
While this is nothing new, I will continue to update the four (almost five) curricula, worksheets, and web pages.


7. Helping You
Answering your questions and guiding you toward solutions is where I spend most of my time. And I love this! I will continue to strive to provide you with resources, products, and ideas that will help you be the best parent and teacher that you can be. These will be shared on Facebook, Instagram, and this blog.


8. Pointing You to the Savior
While I love all of the other points mentioned in this blog, drawing you into the Scriptures and deepening your relationship with Jesus Christ is my #1 goal for 2016. Because, no matter what I do, if I am not leading you to the source of healing, strength, and encouragement, then I am missing God's desire for me. If you aren't familiar with my spiritual journey, I encourage you to read my free ebook – A Quiet Time, Worth the Time.
But I can't do anything of these without your prayers, support, and ideas. Please take a moment to share with me your suggestions and questions. And don't forget to pray for our ministry!
Your Turn: If you could choose one thing, what would you like to see added, changed, or removed from this blog or the ABCJLM website?