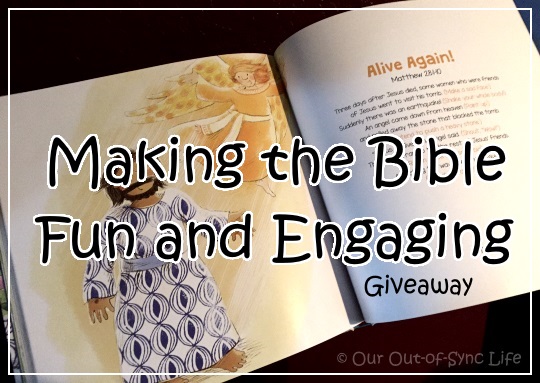 Twice a month, I have the amazing opportunity to lead 60-80 three to six-year-old children at our church in worship and Bible time. As you can imagine, this is no small feat as there is a wide range of development and maturity sitting on eight large carpet squares. Staying focused and sitting still is a huge accomplishment for these little ones.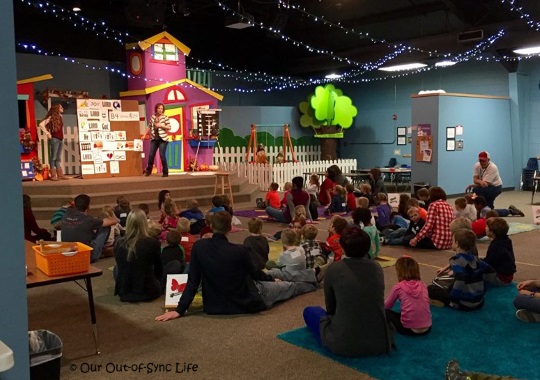 But in the several years that I have lead these kiddos, I have learned a few things. First, all of the children need to be taken to the bathroom before coming to worship. This is very important.
Second, setting expectations and having teachers who hold these high expectations for the kids in their care is imperative. (View "Ideas to Teach a Child to Sit Quietly During Learning Time")
And last, the child must be engaged and active in the learning to hold their focus and attention.
This is why I am so excited about a brand new children's Bible available from Tyndale Kids Publishing. It brings Bible stories to life with a little bit of physical activity and a sprinkle of pragmatics.
The Play-Along Bible includes 50 popular Bible stories from Creation to stories in the book of Acts. Author Bob Hartman includes suggested actions or repeated words to engage the child in learning the story.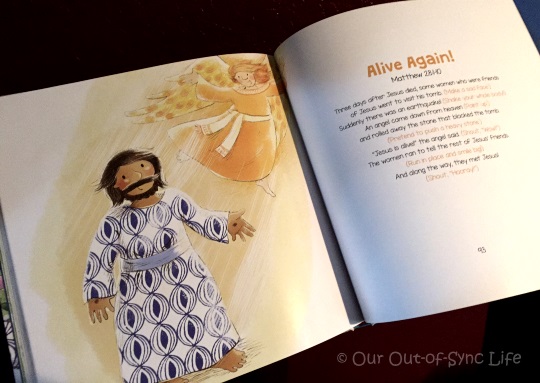 Pictured above is the story of Easter. Each story contains an illustration, title, Scripture reference, the story in black ink, and the suggested activity in colored ink. Activities include: put your hand to your ear, rock back and forth gently, make an angry face, and pretend to sleep. Each are specifically added to engage the children ages 3-6 in learning and bring fun to Bible storytime.
In the forward, Mr. Hartman shares a story of a friend who is now a children's pastor.
When she was a teenager and babysat for a Christian family, she was told that she could read the children a fun story, but only if she read them a Bible story first.
Did you catch it? While the parents meant well, they we implying that Bible stories are boring and secular reading is fun. But the Bible is anything but boring. With the most exciting plots of all times it is very sad that we dub it down to simply words on the page.
The Play-Along Bible is a great way to help the child remember, participate, and experience each Bible story. And as an added bonus, once you learn the basics of adding fun to Bible stories, you can take the same techniques and apply them to any story that you read.
You can bet that I will be using some of these ideas when I lead in worship. And I will definitely be suggesting this Bible to the ABCJLM family!
Giveaway:

To help you add life and fun to Bible time with your kiddos, Tyndale Kids has kindly allowed me to give away 5 copies of the brand new Play-Along Bible ($12.99). That's right! Five of you will be receiving your own copy of the just-released book.

Click on the rectangular image below to enter. This giveaway will
end on Monday March 14 @ 12:59 p.m (CST). Winner will be announced March 15th on this blog so be sure to come back and see if you are a winner.


This post may contain affiliate links. Without any cost to you, when clicking on these links you are helping to support the further development of this blog and the ABCJLM website.



Thank you to Tyndale Kids for allowing me to review this book.