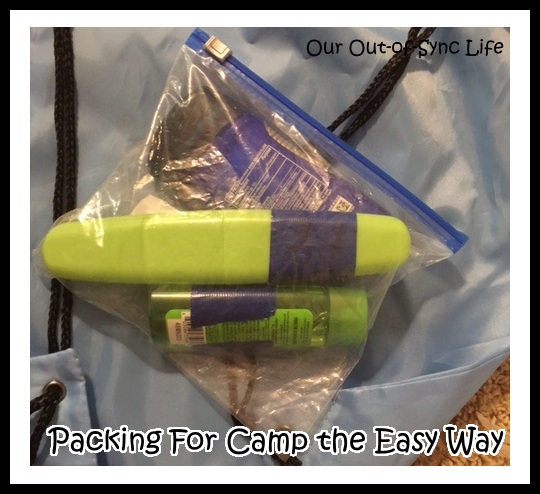 The multiple papers in the mail brought excitement and welcomed the kids to camp.  While I loved seeing the smiles on their faces as they read the news, my concern in the envelope was the packing list.
What did the kids need to bring and how many of each item?  Thankfully the list was precise and numbers were included.
But as the packing began I realized that Bubs and Little Man would need more than the right supplies and clothes.  Because of their
ADHD and their struggles getting ready in the morning
, they needed a method to help them get the necessary supplies to the bathroom and the dirty clothes in one place. This is what we came up with.
Plastic Organizers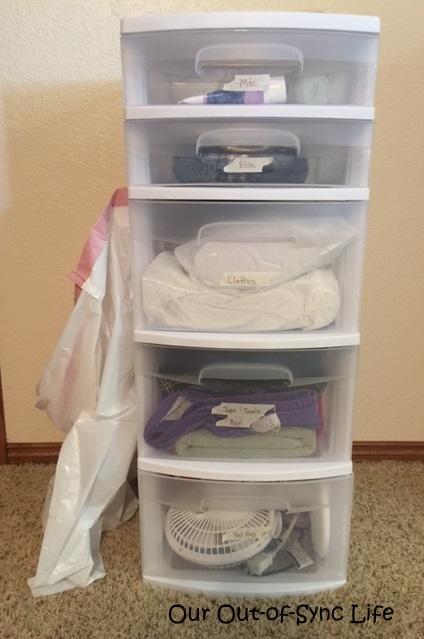 You will notice from the picture above, suitcases and bags are not used.  Instead, we purchased plastic drawer systems (also called craft storage organizers) to hold their supplies.  In the years past, we have also used 3 wide stackable drawers.  The benefit of the drawer system is that the kids can keep their supplies separated and organized unlike in a suitcase.  Also, the plastic drawers are easy to label. (See in the picture above the tape on the drawers.)
Dirty Clothes
A trash bag is taped to the side of the plastic organizer to hold dirty clothes.  Yes, it will fall after a few days, but by then, it will have plenty of clothes to keep it from getting lost.
Duct Tape
All single items (flashlight, toothpaste, etc), I mark with a big piece of duct tape to help the boys easily spot their supplies.  This is also helpful to counselors as they quickly learn to spot the unique tape when items are left out.  We also label all items and clothes with first and last name.
Clothes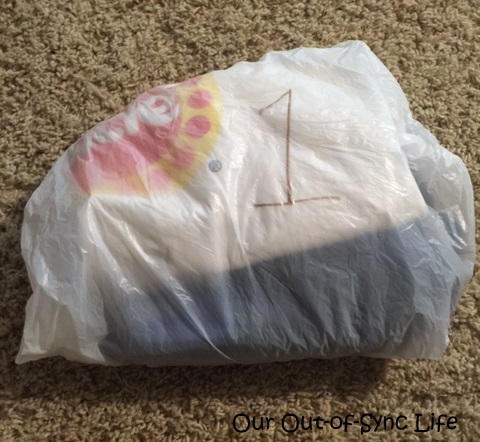 To make putting on clean clothes super easy, the kids helped me bundle in Walmart bags each day's clothing:  shirt, shorts, underwear, and socks.  Then I labeled each sack with a number so they could pull out the specific sack for each day.  This method is one of the best that I have discovered for traveling as well as camp.  (Read more about how and why I pack clothes like this in this post.)

Morning and Evening Routine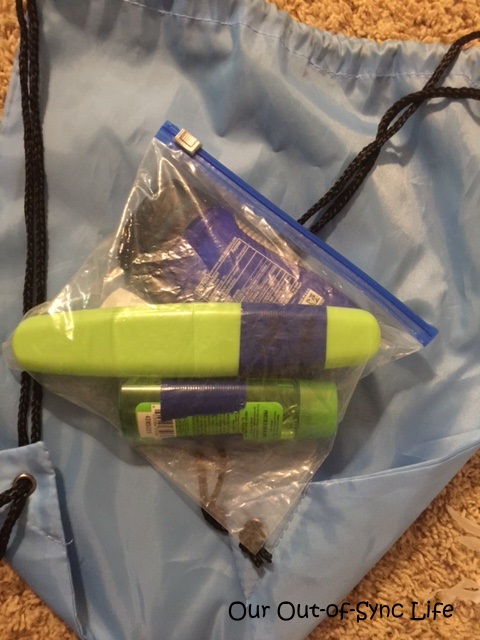 To help the boys with morning prep and showers before bed, we filled sackpacks (light backpacks) with their gear and I placed reminders on top of their plastic organizers so they knew what to do.  Then we practiced over and over using the sackpacks!  More in a second…
For Little Man we created two sackpacks (one morning, one night) each with a toothbrush and toothpaste.  The night bag had a towel and soap for showers.  Bubs had one sackpack and he switched items as needed.  Toiletries were placed in a ziptop bag.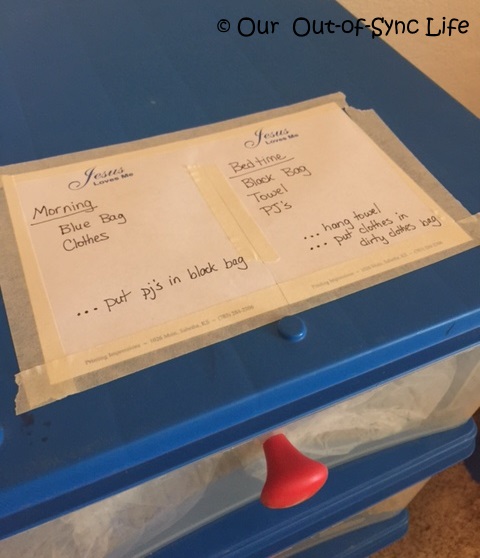 We walked through each step at home so that the boys were well prepared once at camp.  Instead of having the boys memorize the process, I always reminded them to look because I wanted the boys to get used to using the reminders on top of their plastic organizers.
Morning:  Grab the blue knapsack.  Put a numbered Walmart bag of clothes in the blue bag.  Then after changing, place pj's in night bag.
Evening: 
Grab the night knapsack (pjs already in).  Grab a dry towel.  Afterward place dirty clothes in bag taped to side of plastic organizer. 
Part of practicing was discussing where to lay items while showering, brushing teeth, etc.  We also discussed the importance of wearing shoes in the shower.  Bathrooms are gross!
And there you have it!  Simple tips to make camp a wonderful time for each of your kiddos!  
What tips can you add?
Time for a Challenge and a Giveaway!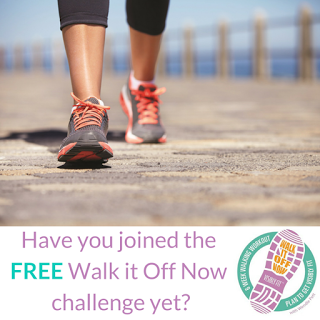 Because I believe mommas need to take care of themselves to be able to truly take care of their families, I was excited when I was asked to join the July 4th Walk It Off Now Challenge with Wendie Pett.  This is a challenge beginning July 4th to help you see exercise and eating in a healthy, Biblical manner and release those extra pounds that have crept on (I wouldn't know from experience or anything!). 
Plus, I am excited to offer one person who joins me on this challenge and enters to win a FREE upgrade worth $197!!!  One winner will be selected on Thursday 6/30 at 12:00 pm (CST) and announced on the Our Out-of-Sync Life Facebook page.
Prize Details – Walk It Off Now program and a free year membership!!! $197 value.
1. 4 challenges for the year with complete plan via emails, video and download
2. Access to join the private community with daily accountability and coaching from Wendie
3. Walk It Off Now "DEVO" Style devotional (ebook form),
4. Tracking journal
5. Live walks each week with Wendie,
6. Facebook Private Group party with giveaways (great prizes like a Fitbit)
Challenge accepted?
This post may contain affiliate links.
Without any cost to you, when clicking on these links you are helping to support the further development of this blog and the ABCJLM website. Many thanks to Wendie Pett for providing this prize for the giveaway. Choice of winners and opinions are 100% my own and NOT influenced by monetary compensation. I did receive a sample of the product in exchange for this review and post.