I will never forget the first time he said the words to me. They hit me like a wrecking ball to an old brick building.
"You are believing lies."
The words were harsh. but covered in love. And, I knew his statement was true.
My husband reminded me that I was choosing to believe the lies of the enemy over the truth of my Father.
Satan Tells Me…
Author and speaker Priscilla Shirer says that believing lies is the same as a warrior headed to battle without a helmet (the Helmet of Salvation). Believing lies is like entering war without protecting our minds with truth.
It seems silly. Why would a person do this? But, I know the answer. The lies are easier to believe.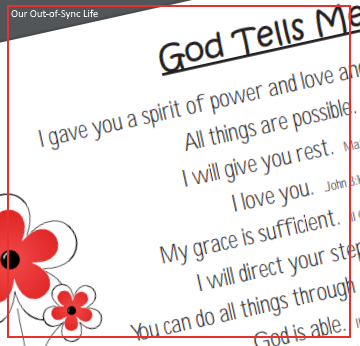 Satan Tells Me…
Below is a list of the lies Satan tells us and God's truth with verses to denounce each lie.  I encourage you to take this list to your Quiet Time and let the truth soak deep into the pores of your soul.  Then write these truths in your Quiet Time Journal, print the list in a PDF to keep (image above), and post these around your home using 3×5 cards or post-it notes.
I am afraid.
For God gave us a spirit not of fear but of power and love and self-control. (2 Timothy 1:7)
It's impossible.
All things are possible. (Luke 18:27)
I'm too tired.
I will give you rest. (Matthew 11:28-30)
Nobody really likes me.
I love you. (John 3:16, 13:34)
I can't go on.
My grace is sufficient. (II Cor. 12:9, Ps. 91:15)
I can't figure things out.
I will direct your steps. (Prov. 3:5-6)
I can't do it.
You can do all things through my strength. (Phil. 4:13)
I'm not able.
I am able. (II Cor. 9:8)
It's not worth it.
It will be worth it. (Romans 8:28)
I can't forgive myself.
I forgive you. (I John 1:9, Romans 8:1)
I can't manage.
I will supply all your needs. (Phil 4:19)
I'm always worried and frustrated.
Cast all your cares on Me. (I Peter 5:7)
I don't have enough faith.
I've given everyone a measure of faith. (Romans 12:3)
I'm not smart enough.
I give you wisdom. (I Cor. 1:30)
I am alone.
I will never leave you or forsake you. (Hebrews 13:5, Deuteronomy 31:6)
Wear Truth
Beyond placing Bible verses around my home, I love to wear it on t-shirts and jewelry to remind me of the truths of Scripture.
HollyLane Christian Jewelry is a website dedicated to reminding you of truths through sterling silver jewelry. Each piece is designed based on a Bible verse. The unique designs are meant to catch attention and spark conversation.
When asked to review a necklace, I chose the Heart Connected Necklace.
Two hearts connected by the cross; a beautiful symbol of the bond we have with others because of God's love for us. Inspired by 1 John 4:19, "We love because He first loved us." Paired with a delicate strand of genuine garnets and asymmetrical freshwater pearl beading.
Arriving beautiful wrapped and in a soft pouch, the necklace is simple and lightweight. I look forward to wearing it.
Want your own reminder of truth or give one of these unique items as a gift? Use discount code – 20FORYOU – to receive 20% off your purchase at hollylane.com!
---
Giveaway Winner:
Thank you to all who entered to win The Beginner's Bible: Gift Edition shared in last week's post. Out of 133 entries, the randomly chosen winner is:
Entry #52 – Emily McK. (email emilymck…@)
Emily M., please contact me within 24 hours using the winning email address.
Thank you to everyone who entered and thank you to Zonderkidz for providing this giveaway

Thank you to HollyLane and FrontGate for the opportunity to review this necklace in exchange for an honest review.