Creation is one of the most important stories in the Bible for children to learn.  When they learn that God created all that we know out of nothing, they understand God's power.  When they learn that God created us because He desires a relationship with us, they understand God's love for us and their purpose.   And the lists goes on.
But understanding Creation can be hard for our human finite minds. Trying to bring the story to a preschooler's level can be even more challenging.
While teaching the preschool kiddos at church the story of Creation, I came up with the idea of a fingerplay to help them remember the order. Part of the Old Testament Curriculum, the actions are simple yet add another level of learning. As you teach the story, add another verse of the fingerplay.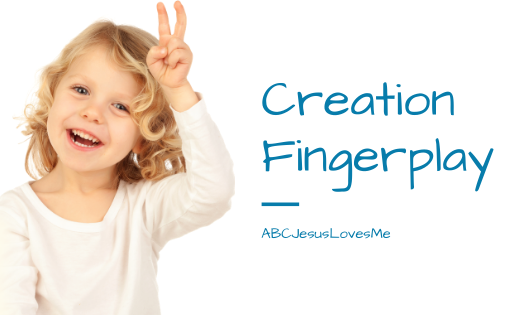 Creation Fingerplay
On Day 1 (When saying numbers put corresponding fingers in the air)
God created light (close fist and then quickly open in the air and bring down to side creating arches)
On Day 2
God created the sky (wave arms in the air) and water (make waves with hands)
On Day 3
God created land (with palms facing the floor, run hands flat in front of you) and plants (place one fist inside the other and pop the one fist through the other – sign language for plant)
On Day 4
God created the sun (hold arm up in the air with fingers spread wide), moon (with opposite arm make a "c" formation with your hand in the air), and stars (with index fingers putting up alternate right and left hand moving up in the air – sign language for stars)
On Day 5
God created the fish (swim hands with palms together) and birds (join thumbs and fly hands in the air)
On Day 6
God created animals (choose your favorite animal) and people (point with thumbs at self)
On Day 7
God rested (place hands together by face as sleeping)
More Ideas?
The ABCJesusLovesMe Curriculum website contains a plethora of simple craft ideas, books, songs, and other ideas. Also check out the Old Testament Curriculum for script, activities, and more learning options.