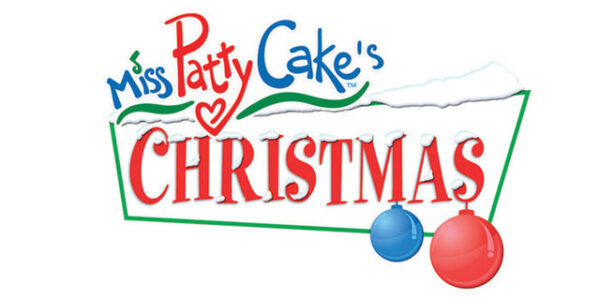 In my 10 years of having a home full of babies and preschoolers, my ears were exposed to a plethora of preschool-geared DVDs. Some of the products were turned off, never to be used again. Others were solid at the core, but the delivery lacked quality. And then there were those products that my kids and I really enjoyed.
If we would have had the video, Miss PattyCake's Christmas DVD would have fallen into the latter category.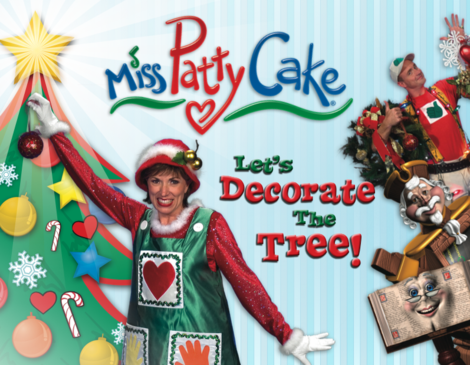 Who is Miss PattyCake?
Some of you may be familiar with Miss PattyCake from your own childhood. Since 1994 Miss PattyCake has produced videos, books, CDs, and other resources. She also travels around the US providing live performances for families and churches.
What Makes it Great?
As the creator of the ABCJesusLovesMe Preschool Curriculum – which provides several Preschool Worship videos for FREE – and the worship leader of 100 preschoolers at my church, I watched the Miss PattyCake Christmas video with a keen eye.
The video opens onto a wonderful stage. Children come in and Miss PattyCake begins teaching the preschoolers about Christmas through activities, book reading, and songs. Other real and computerized characters join the group for the fun.
Songs: The songs are very catchy and are excellent for older preschoolers. (For music connoisseurs: It was such a joy to listen to songs sung on key and in a higher register.) The choruses of the songs are repetitive making them great for the younger kiddos. The children and Miss PattyCake use actions as they sing. While the actions may change too quickly for the younger ones, they are easily adaptable by choosing only one action to perform per line.
Presentation of Bible Story: I assumed one Bible story would be spread throughout the video. Instead several different methods are used to present the Christmas story with the overall question "What does God want for Christmas?". Miss PattyCake provides an excellent example of how to make the Bible story interactive. Children repeat key words, perform movements for key concepts, and fill in answers. I love how Miss PattyCake takes the Bible story a little higher than the children's understanding to stretch the learning. She does an excellent job of using "larger words" and explaining what they mean to the children. At the same time, words that the children don't have context for are substituted for understanding.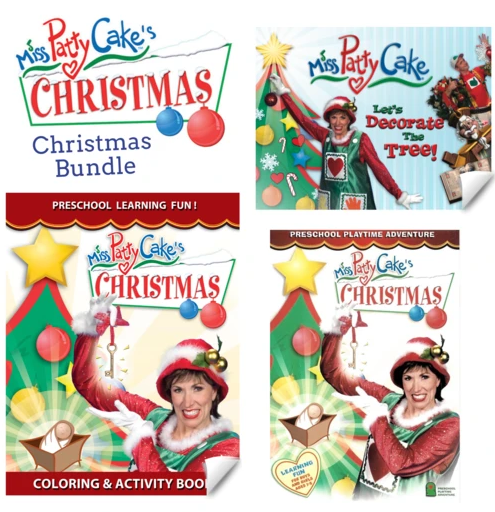 Miss PattyCake: Let's Decorate the Tree! & Activity Book
Just in time for Christmas, Miss PattyCake has bundled the DVD with two Christmas books.
First is a rhyming book that summarizes the DVD. Let's Decorate the Tree! contains images taken from the video. Because of the amount of words and length of the book, this is geared toward late preschool and early elementary.
While Miss PattyCake Coloring and Activity Workbook is labeled "Preschool Learning Fun," some activity sheets contain tight details for coloring, demand spelling and word/letter manipulation, and require more accurate cutting skills. I would save this second book for elementary age as well. The last two pages include "Parent Extra Credit" which provide a list of additional activities to do with your child.
Purchase on the Miss PattyCake website and save on this Christmas bundle! And be sure to enter to win. ↓ ↓ ↓ ↓ ↓

Giveaway
Enter to win all three of these products in a fantastic giveaway!
Click the rectangular image or link below to enter to win the Miss PattyCake's Christmas Bundle ($32.99 value). This is a quick giveaway that will end on Thursday, December 17th @ 11:00 a.m (CST).  So don't wait to enter! The winner will be announced on this blog, so be sure to come back and see if you have won!

Or click – www.ABCJesusLovesMe.com/enter/
One entry per household, US residents only. Click to read our Giveaway Rules.

Thank you to Miss PattyCake for providing these products for review and giveaway. I received a sample each item in exchange for my honest review.