Update: The holiday collection at ABCJesusLovesMe now includes a Happy Birthday Jesus Workbook to help you plan and enjoy a birthday party just for Jesus. Celebrate Jesus' birthday with fun activities, meaningful conversation, and yummy cake to help children ages 3-12 understand the significance of Jesus' birth.  Create a new tradition with your family and friends.  Or use in a classroom or as a church out-reach event.  With detailed ideas, a supply list, and scripts for conversation guidance, this workbook promises to build understanding of Jesus' birth while making memories for a lifetime.  
If you've had a preschooler or elementary-aged child, you've experienced the joy of birthdays. These kiddos love to tell everyone they come in contact with how old they are. They eagerly await the celebration of their day and the presents hoped for.
This connection of birthday excitement is why focusing on Jesus' birthday during Christmas provides such a large impact on this age group.
Today's post will provide you with ample ideas – from simple to more detailed – to host your own "Happy Birthday, Jesus" party!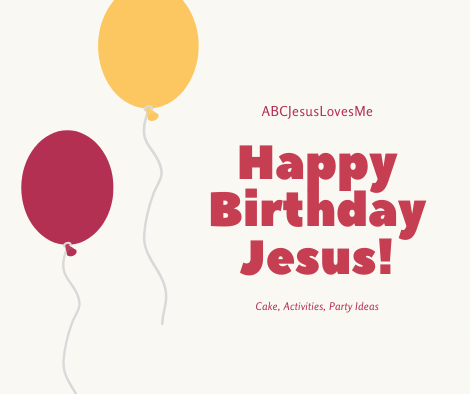 Happy Birthday Jesus Party Activities
A few years ago our family enjoyed a "Happy Birthday, Jesus!" party with four other families. It involved cake, games, and crafts with the sole purpose of celebrating the birth of our Savior. Here's what we did!
To allow for dry time, the kiddos began the party by making popsicle stick Christmas Trees. Then to tie the ornaments to Christmas, we read the book The Tale of Three Trees.
Next the children enjoyed a Christmas Scavenger Hunt, reading Luke 2, building a nativity scene with play dough, and playing "What Doesn't Belong?". We ended with a symbolic birthday cake.

Click to learn all of the details of our Happy Birthday, Jesus party.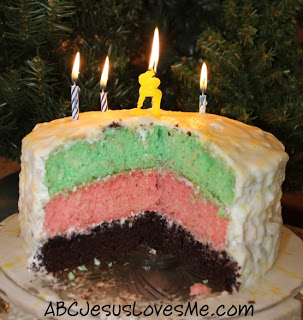 Happy Birthday Jesus Cake
When my children were young, baking a birthday cake for Jesus had a impact on them because they could relate to the significance of a cake. Each child helped bake his or her own birthday cake, and then enjoyed the process of making one for Jesus.
Discover four cake ideas with discussion ideas and Scripture.
Christmas Layer Cake
Christmas Cake with Toppers
Chocolate Cake with Sprinkles
Christmas Cake with Candles

Birthday Party Supplies
Amazon, Oriental Trading, and Hobby Lobby offer paper goods, game supplies, and goodie bag items for your party.
Whether you go all out with a huge party or simply choose one of the activities to do as a family, create a tradition your family will ask to continue for years to come.
---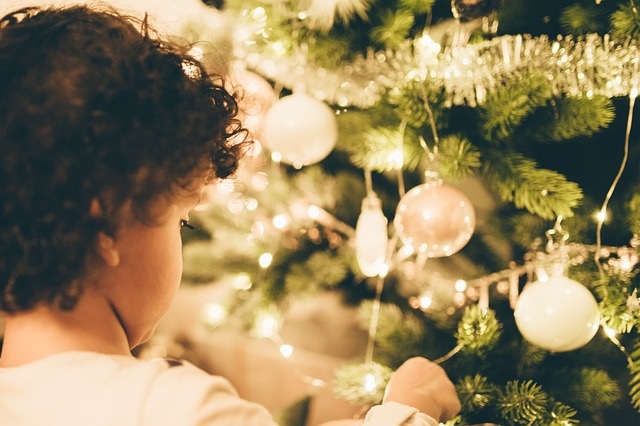 Discover more Christmas books, traditions, crafts, free printables, recipes, and ideas on the ABCJesusLovesMe website to keep Jesus the Reason for the Season!